Sven-Goran Eriksson denies England dressing-room clique claims
By Mandeep Sanghera
BBC Sport
Last updated on .From the section England197
Sven-Goran Eriksson saw no evidence of "stupid things" like team cliques when he was England manager and denied claims by some of his former players that club rivalries had held back the national team.
Ex-internationals Rio Ferdinand, Frank Lampard and Steven Gerrard have recently said intense domestic rivalries contributed to a lack of success of England's 'golden generation'.
Ferdinand has said he stopped talking to Lampard when they were at Manchester United and Chelsea respectively as he did not want his international team-mate to have an edge over him at club level.
"If that's the case, Rio, I have to tell you then you handled [it] very stupidly," said Eriksson, who managed England between 2001 and 2006.
"I never saw that. Maybe it was hidden to me but I don't believe it.
"The England national team is too big to have these kind of stupid things. I didn't see any evidence of that."
Ferdinand said club rivalries "held us back", Lampard said the squad was "at each other every week" in the Premier League and former Liverpool captain Gerrard said there was "respect" but no "love" between players when on international duty.
During Eriksson's tenure, England were beaten 2-1 by Brazil in the quarter-finals of the 2002 World Cup, while going out on penalties to Portugal in the last eight at both Euro 2004 and the 2006 World Cup.
"If you are Frank Lampard, Steven Gerrard or Rio Ferdinand playing in three different big clubs, I think they all wanted to win and all wanted to help each other," added the Swede.
During their domestic playing careers, Ferdinand won six league titles and a Champions League, Lampard was part of three league title victories, a Champions League success and four FA Cup wins and Gerrard claimed a Champions League and two FA Cups.
Gerrard earned 114 England caps, with Lampard getting 106 and Ferdinand 81.
"Maybe they know better than me who they talked to but during training, travelling and matches I couldn't see that. Absolutely not," Eriksson said.
"During training, if you played for Manchester United, Manchester City, Chelsea or Arsenal - or whoever it was - I couldn't see that they didn't pass the ball to each other and things like that. No. Absolutely not.
"During my years, the team spirit was very good. We had some really good results and then we lost against Brazil and twice against Portugal on penalties.
"In all three big tournaments we were very close, especially the last one. We had a very good team and we should have done better.
"That we went out of tournaments because of team spirit? No - I don't think so at all."
England's current squad qualified with a 100% record for the Russia 2018 World Cup and are in a group with Belgium, Panama and Tunisia.
Eriksson's regret at the 2006 World Cup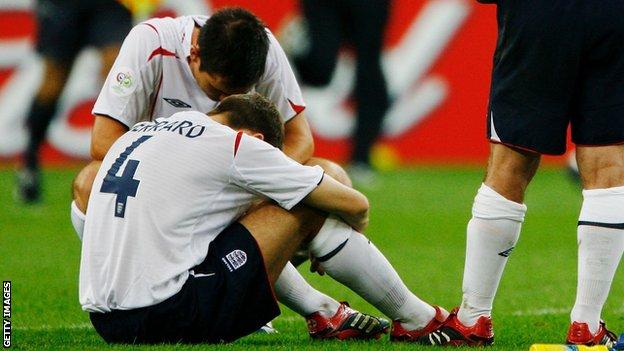 England took Portugal to penalties after a goalless draw in the quarter-finals of the 2006 World Cup, despite Eriksson's side losing captain David Beckham to injury early in the second half and having striker Wayne Rooney sent off after 62 minutes.
But, in the shootout, Lampard, Gerrard and Jamie Carragher missed their spot-kicks as Portugal emerged 3-1 winners.
"I think one mistake I did - I should have taken in a mental coach for penalty shootouts for the 2006 World Cup," Eriksson said. "That might have helped us, but you never know.
"England and penalty shootouts - historically they are not very close friends but I thought we were mature enough to handle it. At the end, it showed that we were not.
"If I could have changed anything, it would have been that. The end result, you never know."