Carlos Carvalhal: Swansea face biblical challenge against Liverpool
Last updated on .From the section Swansea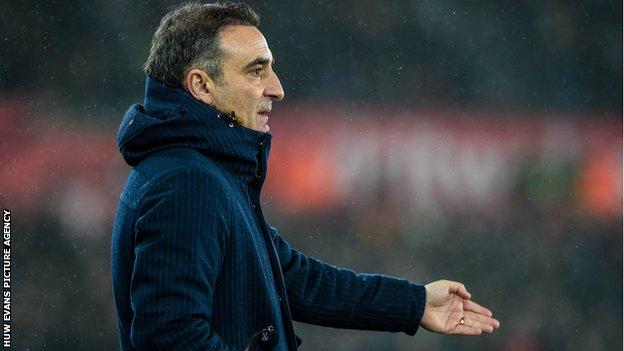 Swansea City manager Carlos Carvalhal believes his side face a "David v Goliath" contest against in-form Liverpool on Monday.
The Swans are bottom of the Premier League but have lost just one of their five games since Carvalhal's arrival.
In contrast, Jurgen Klopp's side are fresh off the back of a 4-3 win against leaders Manchester City, and have not lost in any competition since October.
Despite the challenge, Carvalhal said his side can "surprise" the visitors.
Klopp's side contains three forwards - Sadio Mane, Mohamed Salah and Roberto Firmino - who have scored 36 goals between them this season in the Premier League, 22 more than the entire Swansea side.
To make matters worse, the Swans will be without injured top-scorer Tammy Abraham, however midfielder Renato Sanches is fit again following a hamstring strain suffered against Wolves in the FA Cup on 6 January.
"It's not just the three attackers," said Carvalhal.
"They have a good midfield, good defence, a good goalkeeper and good substitutes.
"If we just care about our opponents we will not play, so we must block them and the main attributes that they have and we will try to make it difficult for them.
"But like other big teams they also have some weak points, very few, but we must try to fight against the strong points they have.
"It's David v Goliath, but surprises do happen and we will be ready to prepare a surprise on Monday."
Liverpool formidable without Coutinho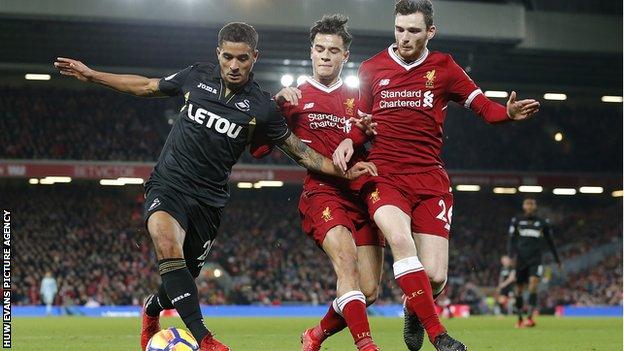 Carvalhal also played down the significance of Philippe Coutinho's recent sale from Liverpool to Barcelona in a £142 million deal, adding that the Reds are formidable opponents without him.
"Even when they lose Coutinho, they still have fantastic substitutes," said Carvalhal.
"If I lost one player, it would mean big damage but if a big club loses two or three players they are still strong."
Swansea are still yet to complete any new signings during the January transfer window but Carvalhal says they're getting closer.
"We are discussing but we haven't finalised [any players]," said Carvalhal.
"All of us at the club expected to bring in a minimum of one player in the last few days but it's not easy.
"I don't know if we'll be able to bring a player in the next few days.
"We were not far away but negotiations were very hard."