Ajax's Ziyech prepares to face fellow Moroccans
By Mark Gleeson
BBC Sport. Amsterdam
Last updated on .From the section African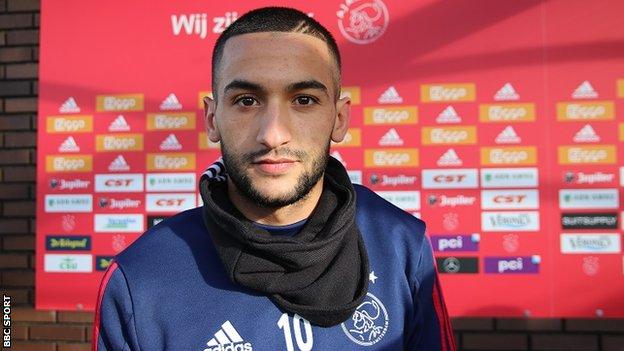 Morocco's contingent of Dutch-born footballers are all good friends off the field but that, says Ajax Amsterdam's Hakim Ziyech, will all be put aside this Sunday when his club take on champions Feyenoord Rotterdam.
Ziyech lines up against Morocco captain Karim El Ahmadi in midfield while Feyenoord are also expected to field Sofyan Amrabat, who - like Ziyech - opted to play for Morocco rather than the Netherlands.
"It is always nice to meet your friends on the pitch, especially my team-mates from the national team," Ziyech told BBC Sport on Friday.
"We have a good relationship off the field. We are good friends and go for dinner and stuff like that.
"But before this game, there's no communication!" added the playmaker, who was born in the Dutch town Dronten.
The much-anticipated clash marks the return of league action after the winter break and dominates this weekend's sporting agenda in the Netherlands.
"You can see this game a little like the clash in Spain between Real (Madrid) and Barcelona - the hate … between the supporters," said Ziyech, one of Africa's brightest talents.
"We are two big clubs in the league so that's why it is such an important match."
Ajax won four league titles in a row between 2011 and 2014 but finished second in each of the three subsequent seasons.
Last season, Feyenoord returned to former glories as they won the Dutch championship for the first time in 18 years with El Ahmadi named the league's best player.
This season, PSV Eindhoven - the other of the three Dutch clubs to have won the European Cup - have a five-point lead at the top of the table but Ziyech believes Ajax can haul them in.
"Five points is not much. At the beginning of the season, we were 10 points behind so we can make it up," added the 24-year-old.
Ajax play on Sunday under a new coach in Erik ten Hag, appointed earlier this month after previous incumbent Marcel Keizer was fired in December.
"It is different but we are getting ready," was all Ziyech offered up in answer to how things were going with the new man in charge.