Alan Pardew: Football is 'losing the plot' over transfer fees, says West Brom boss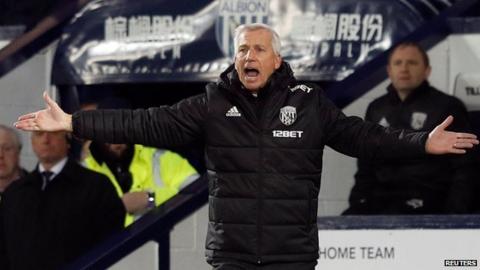 Rising transfer fees show that football is "losing the plot", according to West Brom manager Alan Pardew.
Wages are also going up much faster than inflation and Pardew is concerned about agents' fees too.
This month's biggest deals have seen Philippe Coutinho leave Liverpool for £142m and Virgil van Dijk join for £75m while Alexis Sanchez is set for a £35m move to Manchester United from Arsenal.
"It's difficult with the prices now to gauge what's good value," said Pardew.
"We live in a hyper-inflated world because of the TV money received by the football clubs. Therefore, transfers and wages are going way out of kilter with real life.
"I think we're all losing the plot with the figures. It's just becoming, 'Oh okay,' and not even reacting to things any more.
"If you are a fan of British or European football, you would have a concern about how much money is actually being paid outside of the game."
The world's biggest transfer deals
£200m - Neymar (Barcelona to Paris St-Germain) 2017
£165.7m - *Kylian Mbappe (Monaco to PSG - *loan deal with option to buy) 2017
£142m - Philippe Coutinho (Liverpool to Barcelona) 2018
£135.5m - Ousmane Dembele (Borussia Dortmund to Barcelona) 2017
£89m - Paul Pogba (Juventus to Manchester United) 2016