Southampton still playing for Pellegrino - Graeme le Saux

By Graeme le Saux
Former Southampton and England defender
Last updated on .From the section Southampton

There were lots of positives for Southampton to take from Sunday's draw with Tottenham but it does not change the fact manager Mauricio Pellegrino remains under serious pressure.
Marco Silva's departure from Watford means eight of the 20 Premier League clubs have sacked their manager this season, and there is a reason for the speculation Pellegrino will be next.
Southampton have not won any of their past 11 league games, and have managed only one victory in 15 - a run that goes back to the end of October. On Saturday they dropped into the relegation zone for the first time this season, and they remain 18th.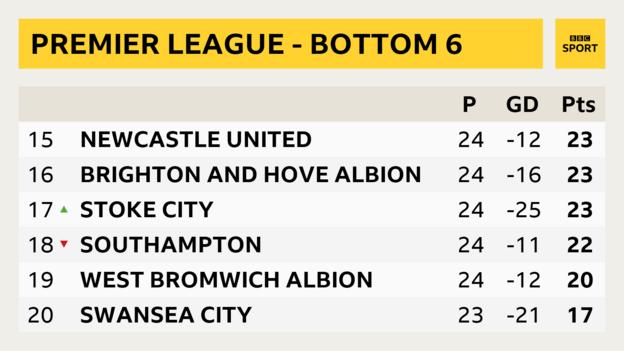 Excluding the three promoted clubs, Bournemouth are the only other side in the bottom 12 not to have rolled the dice and decided to change their manager.
If you are down there and you are sticking with your man, then you are showing a lot of loyalty, but that will only stretch so far.
Southampton play Watford in the FA Cup fourth round at the weekend, but their next two league games - against Brighton at home and West Brom away are going to be massive for what happens next at St Mary's.
They are not must-win games for Saints in terms of staying up, but they will play a huge part in deciding whether Pellegrino keeps his job.
Bertrand shows the way forward
Some Southampton fans were unhappy with their style of play under Claude Puel, who was sacked in the summer after finishing eighth and reaching the final of the EFL Cup.
Pellegrino has also been criticised by some supporters for his tactics and apparent lack of attacking ambition, especially at home, but I did not see a problem with that against Spurs.
I thought there was a good balance to the team in the way they approached the game, from all areas of their side.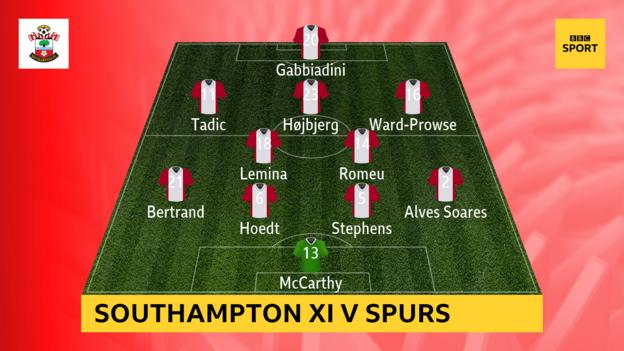 Left-back Ryan Bertrand, who set up their goal with the cross that Davinson Sanchez put into his own net, gave us some insight into that when he came on Match of the Day 2 to talk about the result.
We were talking about where they tried to exploit Spurs and cause them problems and how, with their full-backs pushing high up the pitch, it became a game of cat and mouse.
Ryan had to pick his moments to make his runs, and time them right too, but you cannot do that if your team does not have enough possession in the right areas to allow you to get forward.
Southampton managed that against Spurs, and it is vital they keep doing it.
As a former full-back, and one who liked to go on the attack, I know what an important role they can play in creating chances if they have the right qualities.
In Ryan, who I have known since he was a young player at Chelsea, they have got someone who can do that.
He has got a fantastic left foot, always likes to get forward, and has the physical ability to get up and down the pitch for 90 minutes.
He linked up well with Dusan Tadic, and that is one of the partnerships Saints must look to build to get themselves out of trouble.
Saints show attitude, work-rate and togetherness
As well as showing plenty of attacking ambition, Southampton did not look like a side that has stopped playing for their manager.
What impressed me most was their attitude, work-rate and togetherness.
They created chances at both ends of the game - the first 15 minutes and the last 15 minutes - and they were strong and held firm under pressure when they had to.
They have not done that enough this season, though, and the key to their survival will be whether they can do it again in the future.
Looking at Sunday's game in isolation, you would think they were in good shape, and certainly not fighting relegation, but there were still some signs of why they are in trouble.
They wasted some good chances, especially in the first half, and they will have to become more clinical.
Pellegrino has already found out the hard way that one goal is not enough to secure a win in a division like the Premier League, where games are high pressure for 90 minutes. It almost cost them another point on Sunday.
There was also some anxiety around some of their defensive play and a bit of vulnerability when they lost possession.
I can understand why they are scared of conceding because there have been times when they have struggled to score this season.
But they should have gained some confidence from the way they held on against Tottenham for what was a decent point for them, and another big plus was the backing they got from their fans.
Their supporters showed they are absolutely behind them and I think most people in St Mary's enjoyed that performance. If they can repeat it against weaker teams, they will pick up points and climb the table.
Disheartening to see players sold so quickly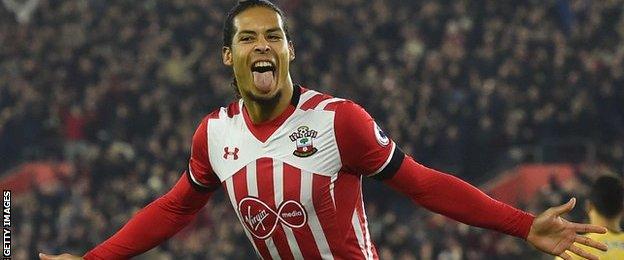 I do have some sympathy for Pellegrino, because whoever took over last summer was always going to have a difficult job.
They had to put up with a huge amount of distraction all season over Virgil van Dijk's future before he joined Liverpool earlier this month.
Before that, they have become a club that has repeatedly sold their best players. When you do that over a period of time it is going to have an impact on the people who are left behind.
When I look at their team, I see some quality in there, but it must be disheartening for players to see talent come through but then be sold so quickly.
It has been going on so long that invariably it will affect players on the pitch, and morale.
In those circumstances, your manager is your leader. As a player you want to feel that he is in control of what is happening on the pitch, but also have an important role in the decisions that are made off it.
If you lose that belief, you are in trouble.
That is the backdrop to the situation Pellegrino and Southampton find themselves in.
He is a talented manager but what is happening shows how difficult it can be for anyone in his circumstances, at a selling club.
There are only so many times you can dip into any team and sell players without it having an impact, and that is the biggest reason Saints are having a difficult time at the moment.
Graeme le Saux was speaking to BBC Sport's Chris Bevan.