Paulo Dybala: Will Juventus forward turn brilliant into consistent?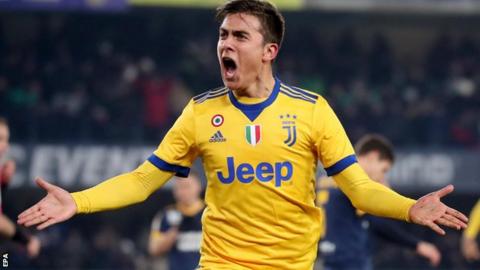 When Paulo Dybala received the ball in Barcelona's box, the threat was not immediately apparent, but in a flash the Argentine forward spun on the spot and with his left foot curled the ball into the far bottom corner.
The Juventus stadium erupted into delirium.
When Dybala is unleashed, dribbling with the ball at his feet as he kneads together play in the final third, he is simply mesmeric. Playing between the lines and delivering perfect through balls and audacious goals, few in football can produce the tantalising performances he can, or manipulate the ball as he does.
Make no mistake, 'La Joya' ('the jewel') as the 24-year-old is dubbed in Spanish, is a phenomenon… sometimes.
The aforementioned goal against Barcelona came as part of a sensational left-footed double against the Spanish side, in the quarter-finals of the Champions League last season.
Dybala out-Messied Lionel Messi and produced a performance that forced the world to sit up and take notice. There was a new Argentine on the block.
Fast forward six weeks and Dybala was holding his head between his hands, on the sidelines in Cardiff.
It was a familiar image and a familiar tale. Juventus had just lost another Champions League final and Dybala was one of the worst performers on the pitch.
"A ghost", wrote OASport. "Who saw him?" asked another Italian sports news site SportMediaset, while newspaper Gazzetta dello Sport claimed the forward went to hide as Real Madrid came to play.
For all his talent, vision and technique, Dybala has yet to produce consistency.
In the Supercoppa match against AC Milan in December 2016, Dybala stepped up to take the crucial penalty only to see it saved by Gianluigi Donnarumma, handing the trophy to their rivals. "He's young, he will learn" was the opinion of his supporters.
Juventus coach Massimiliano Allegri was sure that by the time the Champions League final had arrived, Dybala would be ready, especially after that performance against Barcelona. "This match can bring him closer to the level of [Cristiano] Ronaldo and Messi," he had said.
It did not. If anything, Dybala's woeful performance highlighted just how far away he was from being hailed a great and the critics sharpened their knives.
His performances throughout the season were scrutinised with many wondering why the 'great talent' did not manage more than one away goal in Europe. That one away goal came against Dinamo Zagreb, in the Champions League group stages when Juventus were already 2-0 up.
As soon as the opponent produced a challenge and Juventus felt anxious, Dybala was rarely on hand to help pull the team forward, act as a leader and spur the team on in a way that Mario Mandzukic, who plays alongside him and is less technically gifted, has often managed.
Parting ways with his agent and replacing him with his brother, Dybala made big changes over the summer.
Some, especially his Italian club, were concerned about the possible consequences as his brother seemed to want to take him to a different club but Juventus need not have worried.
The youngster started the new season in blistering fashion. He not only scored a double to help Juventus attempt a comeback against Lazio in the Supercoppa, a match they eventually lost, but he also scored five goals in Juventus' first three league matches, including his first Serie A hat-trick for the club.
In fact, the forward was carrying the club on his shoulders as Allegri was attempting to cope with the changes made to his side and adjusting tactics to suit his new arrivals.
Two hat-tricks and then two goals against Torino in the Turin derby - all within the first six league matches of the season - led Italy to herald the return of Dybala's genius.
Paulo Dybala Serie A record
Season
Team
Apps
Mins played
Goals
Total shots
% of shots scored
Mins per goal
Assists
Chances created
2012-13
Palermo
27
1249
3
31
9.7%
416
0
24
2013-14
Palermo
28
1941
5
-
-
388
4
-
2014-15
Palermo
34
2965
13
117
11.1%
228
10
59
2015-16
Juventus
34
2465
19
107
17.8%
130
9
73
2016-17
Juventus
31
2153
11
89
12.4%
196
7
58
2017-18
Juventus
19
1293
14
75
18.7%
92
3
30
Total
145
10125
60
419
14.3%
169
29
244
Impressive? Perhaps, but it is worth mentioning that one of his hat-tricks came against Genoa, a team placed 14th in the league and the other was against Sassuolo, who are 15th now after sacking and replacing their coach.
The rest of his Serie A goals this season have come against Cagliari in 16th place, Chievo in 13th, Hellas Verona in 19th and SPAL in 17th. Torino are the only team in the top half of the table who has Dybala scored against, and it is worth mentioning they went down to 10 men in the 24th minute.
Dybala has not registered a single goal or assist in the Champions League this season despite playing 505 minutes of European football.
And when the pressure has been on, he has often failed to deliver.
Against Atalanta in the league, Juventus threw away a two-goal lead but were given a penalty in the 84th minute and Dybala stepped up. His effort saved, the Old Lady dropped their first two points of the season as the match ended 2-2.
In the next Serie A match, Lazio were winning 2-1 when Juventus were awarded another late penalty to equalise. Dybala stepped up again and Thomas Strakosha saved as the champions of Italy suffered their first home defeat in two years.
Barring the performances in the 2017 Supercoppa, in which he was inconspicuous in the early stages before springing to life, and that amazing display against Barcelona, Dybala seems to struggle when the pressure is on, with many blaming mental fragility.
Paulo Dybala International record for Argentina
Year
Apps
Goals
2015
3
0
2016
3
0
2017
6
0
Yet, ask those who watch him consistently, and they will tell you they would be thrilled to have him in their team.
Indeed, he has not always scored his penalties or produced in finals but as many will point out, Juventus' style of play hinders the player from expressing the full extent of his talents.
Unlike Napoli or Barcelona, the Bianconeri play a less fluid game and are a little more rigid, as indeed are Manchester United, the team reportedly interested in the Argentine.
Allegri's constant tactical experiments have had an impact on Dybala's performances, with players including the forwards often asked to help out defensively and sacrifice for the team.
Without constant movement in the final third and Juventus' struggles with playing a possession-style game with an emphasis on rotating the ball, Dybala is finding it difficult to be decisive.
While the attacker credited Allegri last season for allowing him to play in his ideal position behind Gonzalo Higuain in a 4-2-3-1 formation, the coach has had to forego that shape this season for the more solid 4-3-3 to ensure defensive stability considering the departures of Leonardo Bonucci and Dani Alves and the poor form of Alex Sandro.
In such a formation, there is no clear role for Dybala as he is neither a winger nor a centre-forward.
Allegri is still confident that he has a future Ballon d'Or player among his ranks, but has blamed constant comparisons made with Messi by the media for Dybala's lack of consistency. It is simply too much pressure for a player of his age playing in his first big European club.
Yet one has to ask, is the Argentine all that young? At 24, Paris St-Germain's world record signing Neymar is only one year older, while fellow PSG forward Kylian Mbappe is five years younger.
Dybala is an outstanding player, of that there is no doubt, but time is running out for him to prove he can be compared to the elite.
Mina Rzouki hosts the BBC Radio 5 live Euro leagues podcast, which you can listen to every week.