Chelsea: Antonio Conte 'not worried' if Eden Hazard is unhappy about being substituted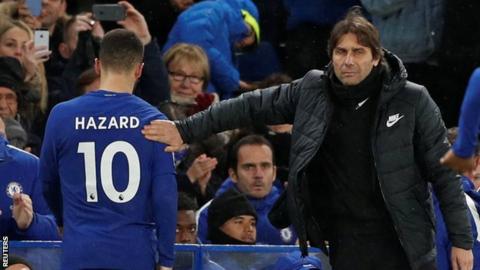 Chelsea manager Antonio Conte says he's not worried about whether Eden Hazard is happy to keep getting substituted.
Hazard has completed the full 90 minutes once in his last eight games.
And he is unlikely to start Wednesday's FA Cup third round replay with Norwich.
Asked whether the player agreed with the reasons for his substitutions, Conte replied: "It is not important. I decide. I am the coach. My first task is to do the best for the team and the club, not to make every player happy."
Conte continued: "Every press conference there is always this question about whether I'm worried about making my players happy. No. I'm worried to win, otherwise we would risk finishing 20th in the table."
Defender David Luiz will return to the Chelsea starting line-up against Norwich on Wednesday at Stamford Bridge after having not played since November.
However, Ross Barkley's wait to make his debut after arriving in a £15m move from Everton 11 days ago goes on.
Conte said at the weekend he hoped the England midfielder would be involved against Norwich at Stamford Bridge after finally recovering from the hamstring injury that has prevented him making a single appearance so far this season.
However, as Barkley was not registered until after 12 noon on the Friday before the first meeting at Carrow Road on 6 January, he cannot feature in the replay.
Conte said: "We will prepare a friendly game for him this week so we can see his physical condition."