Luis Suarez feared World Cup biting ban would derail his Barcelona move
Last updated on .From the section European Football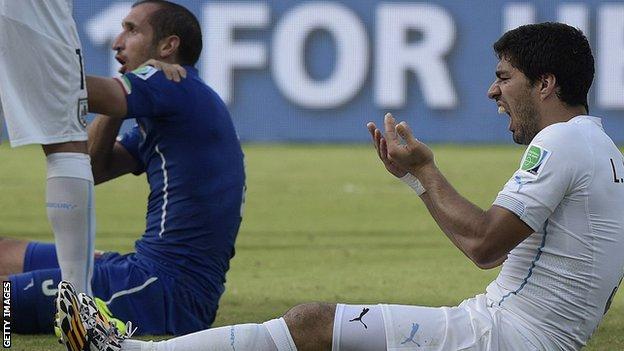 Former Liverpool striker Luis Suarez has said he feared his "dream" move to Barcelona was off after he was banned for biting during the 2014 World Cup.
And, in one of his most open interviews, Suarez said he cried again when Barcelona said they still wanted him, despite the controversy.
Suarez was speaking in an interview with Barcelona team-mate Gerard Pique.
Suarez joined the Spanish club from Liverpool for £75m in July 2014, less than two weeks after receiving his four-month ban - his third suspension for biting an opponent.
Suarez said he first spoke to Barcelona about a move during the tournament, but feared the transfer would fall through following his actions in the Group D match.
"It was everything - in addition to thinking about the World Cup, and being able to fulfil my dream to come here to Barca - everything had gone overboard for me," he said.
"The truth is, it was a very, very painful moment for me, for the team, and obviously, what happened, it affects you. It hurts you and all that."
The striker said he spoke to Barcelona a few days after the incident, and "they told me to be calm because Barca still wanted me".
"And I have no problem saying it, I cried," he continued. "Because, they were accepting, and me going through what I did in that moment... it was complicated to trust in me."
Suarez had asked to leave Liverpool in summer 2013 but, after serving a 10-game ban for biting Chelsea's Branislav Ivanovic, went on to sign a new four-and-a-half-year contract with the Reds that December.
His reputation among English fans had been tarnished, though, and he admitted scoring against England in Brazil was a career highlight.
"Playing against them and scoring two goals, truth is, for me, it was the most emotional moment I've lived in my career as a national team player, regardless of the titles and the previous World Cups," he said.
Suarez, who has scored 98 goals in 113 appearances since his move to the Nou Camp, said the club have supported him from the start.
"Barca has been so good to me, and I will always be very grateful for that," he said.