Chelsea stadium: £1bn Stamford Bridge plan moves step closer
Last updated on .From the section Chelsea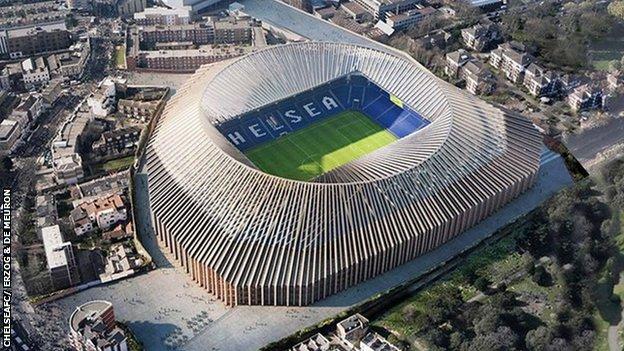 Chelsea's £1bn development of Stamford Bridge has moved a step closer after Hammersmith and Fulham Council passed a motion that will prevent an injunction blocking the plans.
It was taken out by a neighbouring family, the Crosthwaites, who argue the stadium's expansion to a 60,000-seater would block light into their home.
At a meeting on Monday, the council agreed to acquire land at Stamford Bridge which ensured the injunction is not valid, as the family cannot take the council to the High Court.
The new stadium was granted planning permission one year ago and has been signed off by the Mayor of London.
Monday's decision means the council can take responsibility for the land in question at Chelsea's instruction and lease it back to the club, ensuring it is not subject to legal challenge as had previously been the case.
This will only happen if the club cannot reach an agreement with the Crosthwaites.
The family have no legal right to challenge the council on this issue, but could ask for a judicial review.
No-one spoke before the vote, although councillors did say correspondence on the matter had been received in the past few days.
No member of the Crosthwaite family, who had refused to accept a number of financial offers from Chelsea to compensate them for the loss of light the Premier League club's extensive rebuilding project will cause, was present.
Chelsea expect to be playing at Stamford Bridge until the end of the 2019-20 season and will be forced to play at an alternative venue - likely to be Wembley Stadium - for up to four years.
'Not even a damp squib' - from the scene
The Courtyard Room at Hammersmith Town Hall was packed expecting some kind of clash between Chelsea and the family.
The sense of anticipation grew as one of the councillors declared her personal interest in number 17 on the council agenda - as she was a Chelsea season ticket holder.
Under those circumstances, it was agreed, number 17 should be moved to number one.
But there were no fireworks. There was not even a damp squib. There was nothing.
No-one came forward to speak. None of the family members were present. No solicitors. Nothing.
Under such circumstances, the councillors took the only course of action open to them.
They confirmed all had seen recent correspondence - but didn't tell outsiders what it was. They confirmed they understood the recommendation. And they passed it.
All done in less than five minutes.