Emma Hayes: Chelsea boss wants Women's Super League run by Premier League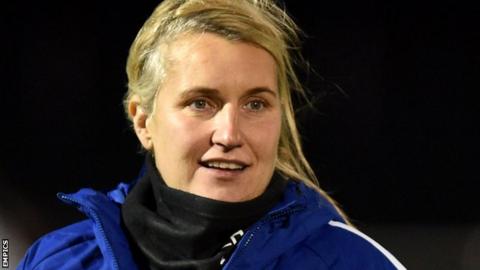 Chelsea boss Emma Hayes hopes the Premier League will one day run the top level of English women's club football.
The Women's Super League, the top two tiers of the women's game, is currently run by the Football Association.
After Sunday's 1-0 loss to Manchester City, Hayes was asked what she felt needed to happen to help grow the game.
"I hope one day the Premier League takes it, because then they'll give everybody a million pounds, one hopes," the 41-year-old told BBC Radio 5 live.
"It's about time there is more investment into clubs.
"My hope is that one day clubs will be in a position where they can receive the millions that the Premier League hand out. Women's clubs should be receiving them."
"I'm looking forward to more professionalism in the game because you'll be getting more games like this [Sunday's Continental Tyres Cup semi-final]. The product is improving."
All top-tier women's clubs will operate on a full-time basis from next season, following the introduction of new, professional criteria for licences.
And earlier this month, the FA revealed they are to increase their investment in women's and girls' football by a further £50m over six years.
The Premier League does not run any senior women's football competitions, but all current men's Premier League clubs do run community football for girls, which saw 23,000 take part last season.
Of the 20 Premier League sides, eight currently have an affiliated women's team playing in either WSL 1 or WSL 2.
However, the Premier League and the FA WSL declined to comment on Hayes' views.
Striker Aluko 'going nowhere'
Meanwhile, Hayes stressed that striker Eniola Aluko was "going nowhere" following news that the 30-year-old is in talks with Paris St-Germain.
Chelsea and England's Aluko, who was involved in a discrimination case against former England boss Mark Sampson in 2017, is also believed to have received interest from one other overseas club.
"That's news to me," Hayes said. "She's not going anywhere, she's still here.
"Eni is here until the end of the season at the very minimum."
Aluko, 30, is understood to be under contract with the Blues until the summer.