Jose Mourinho: Manchester United manager says he does not enjoy rowing with rivals
Last updated on .From the section Man Utd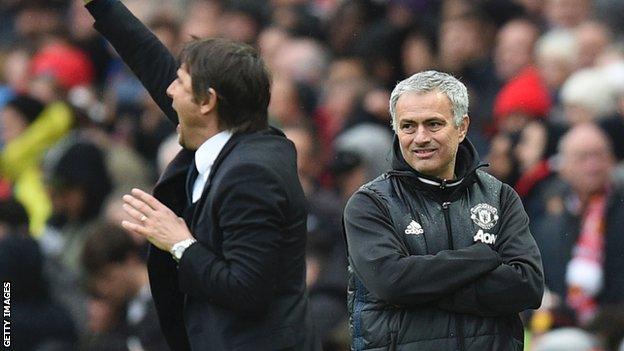 Jose Mourinho said he "does not enjoy" feuding with fellow managers and claimed his latest dispute with Antonio Conte was over - despite appearing to call the Chelsea boss "a victim".
Manchester United manager Mourinho and Conte have been trading insults in a long-running row reignited last week.
Asked if he took pleasure from such exchanges, Mourinho said: "I don't.
"When I start them I take the responsibilities of that and I've started them many times," he added.
"When I don't start them it's quite funny for me to see people on the other side acting like victims when they're not the victims.
"But, really, I don't enjoy. That's why for me it's over."
Mourinho, 54, has frequently clashed with rival managers.
In 2005 he described Arsenal boss Arsene Wenger as a "voyeur" and in 2014 referred to the Frenchman as a "specialist in failure".
As Real Madrid boss in 2011, he gouged the eye of former Barcelona assistant Tito Vilanova and when in charge of Inter Milan in 2008, he said then Juventus manager Claudio Ranieri was "old" and had "the mentality of someone who doesn't need to win". He also mocked the man he replaced at Chelsea in 2004 for what Mourinho said was his poor English.
"Sometimes it's my fault. Sometimes it's the other manager's fault," Mourinho said.
"In my case when I think it's my fault and realise I should behave in a different way I'm the first one to apologise, like I did with Ranieri when I had the chance.
"That's why our relations went from bad to good and from good to very good because I was man enough to apologise."
Mourinho v Conte - a history of confrontation
23 October 2016: Conte says he was "not mocking anyone" after appearing to antagonise Mourinho in Manchester United's 4-0 defeat at Stamford Bridge.
12 February 2017: Conte says he does not like Mourinho's "joking" after the Manchester United boss said Chelsea could not be caught because they were a "defensive team".
14 March 2017: Mourinho tells Chelsea fans "I'm still number one" after being heckled during his side's FA Cup loss at Stamford Bridge.
29 July 2017: Conte says that he must avoid "a Mourinho season" as the champions attempt to defend their Premier League title.
19 October 2017: Conte says Mourinho needs to "look at himself" and stop talking about his former side.
4 January: Mourinho says he did not feel the need to "behave as a clown" during games.
5 January: Conte suggests Mourinho should remember how he used to behave.
5 January: Mourinho says he will never be "suspended for match-fixing". He does not name Conte, who served a four-month ban at Juventus during 2012-13 for failing to report match-fixing at his previous club Siena, but was cleared of any wrongdoing by a court in 2016.
6 January: Conte hits back by calling Mourinho "a little man".
9 January: Conte says Mourinho "used serious words" and warned "I will not forget this".
'Zlatan will come back'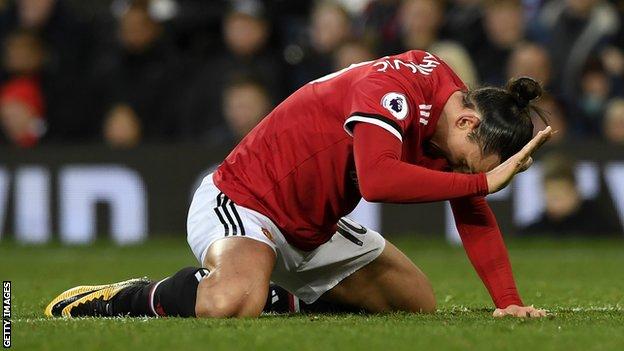 Mourinho also played down concerns over Zlatan Ibrahimovic's long-term fitness.
The 36-year-old Swedish striker returned in November after seven months out with a cruciate knee ligament injury but suffered a knee problem in late December - Mourinho said at the time he would be out for a month.
"Zlatan knows that at the highest level he's in the last part of his career but his dream was always to end his career in Manchester United at the highest level," the United boss said.
"As a leader in the dressing room, as a leader on the pitch, as a quality player on the pitch, I think he can do that, think he deserves that and I'm here to try to help him do that. He just needs to feel really happy with his knee."