Darren Ferguson: Doncaster manager sorry for 'shoot' referee rant
Last updated on .From the section Doncaster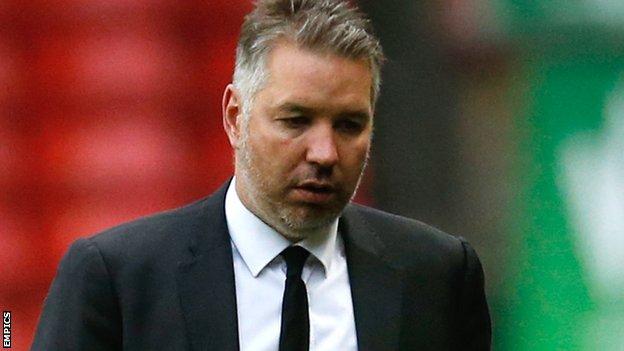 Doncaster manager Darren Ferguson has apologised for saying he would "shoot" League One's "appalling" referees.
The 45-year-old son of Sir Alex made the remark following his side's 1-1 draw with Plymouth on Saturday.
He claimed his side were denied "a blatant penalty" and when asked what he would like the Football Association to do with referees, he said "shoot them".
"I'm sorry and regret the wording. I do not advocate violence against officials," he said in a statement.
"When asked after the game what I personally could do to raise standards, I said: 'What can I do? Shoot them?'
"Although clear to everyone in the room that my comment was a tongue-in-cheek response, it is worth clarifying my comments were borne out of frustration."
Ferguson's comments and subsequent apology have been noted by the EFL and his remarks passed on by the Professional Game Match Officials Limited to the FA for consideration.
"Managers and officials at EFL Clubs are given guidance each season so that they are fully aware of their responsibilities in regard to commenting on match officials and their performance," said an EFL spokesman.
Speaking to BBC Radio Sheffield after the home draw, former Peterborough and Preston manager Ferguson also said he was "disgusted" at what he claimed were the officials "laughing at the end of the game".
He went on to say he felt referees in League One are "part-time" and their fitness levels "a disgrace".
"As was clear from my post-match comments, I felt the referee got some decisions wrong at key moments in the game," Ferguson's statement added.
"Referees have a tough job and I have a lot of respect for the challenges they face.
"But, I would like to see more done to raise standards across the board and give them the best chance of getting decisions right."
The FA is yet to respond to Ferguson's remarks.