Jay Rodriguez: FA to review Gaetan Bong allegation against West Brom striker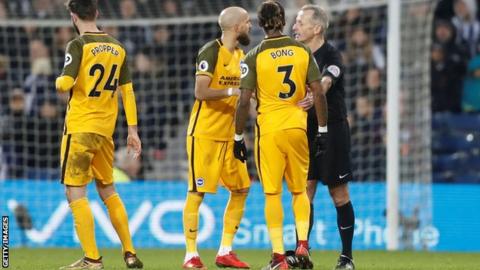 An allegation made by Brighton defender Gaetan Bong about "something said" by West Brom's Jay Rodriguez is to be reviewed by the Football Association.
Bong made the claim after an incident involving striker Rodriguez during West Brom's 2-0 home win on Saturday.
Rodriguez pinched his nose after they clashed, before Cameroon international Bong alerted the officials.
Referee Martin Atkinson included the incident in his match report to the FA, which said it will now investigate.
"The FA can confirm that referee Martin Atkinson was made aware of an allegation during the West Bromwich Albion versus Brighton & Hove Albion game at The Hawthorns yesterday and has subsequently reported this to The FA, which will now begin making enquiries into the matter," it said.
Atkinson did not take any action on the pitch, but made a note of the incident and consulted fourth official Tony Harrington.
Both Brighton boss Chris Hughton and West Brom counterpart Alan Pardew spoke at length to Atkinson after the match, but would not state the exact nature of the allegation.
"There was something said to Gaeten Bong by Jay Rodriguez which has been reported to the referee," Hughton said.
"There was an allegation and something which will then go through the correct channels."
Pardew said: "I know Jay well, and I'll be surprised if it is anything."