Michael O'Neill: Scotland target knows what's required - Gordon Smith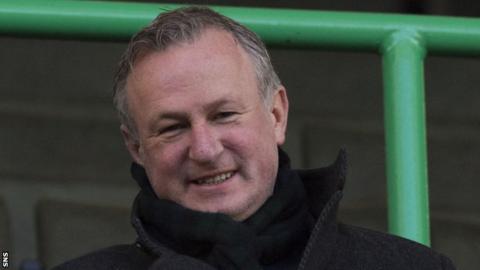 Gordon Smith would be "optimistic" if Michael O'Neill is appointed Scotland manager but says there are other candidates for the vacancy.
Northern Ireland boss O'Neill, 48, will hold talks with the Scottish FA next week about replacing Gordon Strachan.
Smith appointed two Scotland managers during his time as SFA chief executive.
"I think he's a very strong candidate," Smith said of O'Neill. "He knows the environment very well, he knows what's required."
The Scots have not reached a major tournament since the France 1998 World Cup and parted with Strachan after the former Celtic boss had overseen two-and-a-half qualification campaigns.
O'Neill's Northern Ireland initially struggled to get wins but found their form to reach Euro 2016 and then the play-offs for next year's World Cup.
The former Brechin City and Shamrock Rovers boss, who lives in Edinburgh, has been in charge of his country's national team since 2011 and has been offered a four-year extension to his current contract, which would keep him in the post until 2024.
"If you look at what he's done for Northern Ireland with limited resources, it has to be said - I know he's got some good players in the squad - but I do think in general Scotland have got a stronger squad of players overall than Northern Ireland have and yet he's been successful," Smith said.
"He took them to the European Championships, very unlucky in the World Cup run as well and I think he's done a great job.
"He's built his reputation up on that and he's very highly rated, highly respected by the people who have been involved with him in terms of players and the supporters of Northern Ireland.
"A lot of people would say it has to be a Scottish manager but the thing about it is he has a good connection to Scotland. He's managed in Scotland, he's played his football here so he knows the game in Scotland. It's not as if we're bringing in an outsider. He's very much acquainted with the game here.
"It's just a question of whether he feels this is the right time for him to move on from the Northern Ireland job.
"What he has to do basically is get Scotland challenging again to get to a major tournament. We've had a situation where in recent years we've been close to it, not missed out by very much, but the big difference is we really do expect it, we really want to be in a major tournament and I think that would be his remit, to actually get Scotland back at that level, performing in order to get to a major championship - World Cup or European Championship.
"I'm optimistic if he gets appointed."
When Smith arrived at the SFA Alex McLeish was Scotland boss but he soon left for Birmingham City and the 58-year-old is currently out of management.
"I think there are other strong candidates if they don't get [Michael O'Neill]," Smith added.
"The other contenders definitely would be Alex McLeish and maybe even Steve Clarke. He's gone to Kilmarnock and he's been at a high level before and he's proved himself to be very strong in the management side of things."