Football stats from the weekend: A very dry January for Everton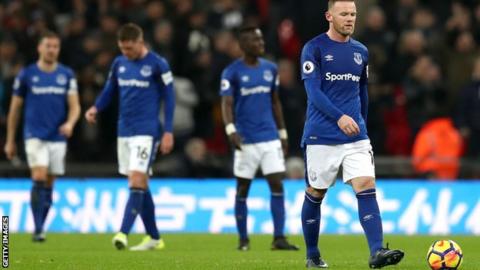 New Year, new you. This is the month that many people attempt to make amends for a gluttonous December by cutting out all the bad stuff for four weeks.
Everton are embarking on a dry January of their own, but not the good kind.
In the two Premier League games played since the turn of the year, the Toffees have picked up no points, scored no goals and not even managed a single shot on target.
Sam Allardyce's solution to his side's attacking woes? Become more boring...
... it is difficult to see how Everton, in an attacking sense, could become more boring. They are the only team yet to trouble the opposition goalkeeper so far this year. That's three hours of football without a single attempt on target.
Everton have also had four Premier League games so far this season in which they have failed to manage a single shot on target - no side has failed to do so in more games.
None of that bodes particularly well when it comes to Everton's hopes of ending their January goal drought.
But Allardyce knows that.
He has brought in Cenk Tosun and Arsenal forward Theo Walcott has also been linked with the club. The former Crystal Palace boss has tightened up the Toffees since replacing Ronald Koeman and while that has come at the expense of more adventurous football, they have been a touch more clinical with the opportunities they have had.
The addition of some better finishers might just be the final part of the jigsaw.
| Koeman | | Allardyce |
| --- | --- | --- |
| 9 | Games | 9 |
| 101 | Shots | 65 |
| 11.22 | Shots per game | 7.22 |
| 26 | Shots on target | 21 |
| 2.89 | On target per game | 2.33 |
| 7 | Goals | 8 |
| 0.78 | Goals per game | 0.89 |
A record even Kane can't reach?
"It is a good thing Jimmy Greaves' record is far, so not every week he is going to break something!"
It is official, even Tottenham boss Mauricio Pochettino is getting tired of Harry Kane breaking records every week.
The latest one to tumble was that of Spurs' all-time top Premier League scorer as the England striker surpassed Teddy Sheringham's record of 97 goals with his double against Everton.
But of course, football did exist before the Premier League and Kane has some way to go if he is to become the club's all-time record scorer.
Greaves is Tottenham's record scorer, having hit 220 league goals in 321 games. Kane, meanwhile, has 98 in 138 games.
Pochettino is confident that Kane, at 24, is young enough to break every record going at Tottenham, so just how long will he have to stick around to surpass Greaves' total?
Kane currently has a goals-per-game ratio of 0.71. If - and it's a very big if - he can maintain that sort of form, then it would take him a further 174 games to score the additional 123 goals he needs to reach 221 goals.
That equates to a touch over four and a half seasons, but even if his goals-per-game ratio is halved he would still move above Greaves within nine seasons - by the time he is 33.
Feasible, but the question is, how likely is he to stay at Tottenham for that long?
Cech's long wait continues
Spare a thought for poor Petr Cech.
The veteran Arsenal goalkeeper has been standing on the edge of history for a while. Quite a while in fact.
Cech kept his 199th Premier League clean sheet in the 1-0 win against Newcastle back on 16 December leaving him one short of becoming the first goalkeeper to notch 200 Premier League shut-outs.
Seven and a half hours of football later and Cech is still waiting to set the record.
Stay patient, Petr.
Most Premier League clean sheets
Player
Games played
Clean sheets
Petr Cech
425
199
David James
572
169
Mark Schwarzer
514
151
David Seamen
344
140
Nigel Martyn
372
137
Walton in a Wigan wonderland
What Cech would do for a run like Christian Walton's.
Who? You might well ask. Only the most in-form goalkeeper in England's top four divisions, that's who.
The Wigan shot-stopper, on loan from Premier League Brighton, kept his seventh consecutive clean sheet for the Latics as they drew 0-0 with Peterborough in League One on Saturday. No goalkeeper in English football has gone longer without conceding so far this season.
Walton has played a part in Wigan having the best defence not only in League One but also in English football. The Latics have conceded only 12 goals in 26 games.
Premier League leaders Manchester City did have the second best defensive record having let in just 13 goals in 22 games... but then they went and shipped in four at Liverpool on Sunday.
Team
Games played
Goals conceded
Average per game
Wigan (League One)
26
12
0.46
Shrewsbury (League One)
26
18
0.69
Chelsea (Premier League)
23
16
0.70
Man Utd (Premier League)
23
16
0.70
Coventry (League Two)
27
19
0.70
Man City (Premier League)
23
17
0.74
Wolves (Championship
27
20
0.74
Moyes in good company
And finally, a word for David Moyes after he reached the landmark of 200 Premier League wins as a manager with Saturday's impressive 4-1 victory at Huddersfield.
He is one of only four managers to have achieved that, after Harry Redknapp, Arsene Wenger and Sir Alex Ferguson.