Steven Naismith: 'A transfer window is unique. It is mental. I'm not ruling out any clubs'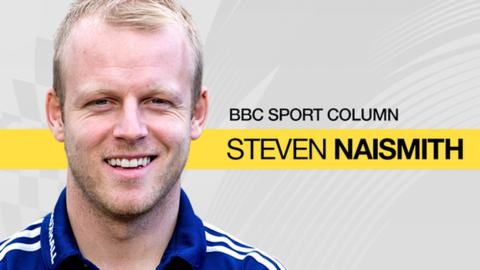 It is a very unique situation, a transfer window in football. When you are inside it and experience it, it is unbelievable really.
There are so many variables. It is a constantly changing board.
It all depends on what the clubs say. A club might really want you, but the club you are at don't want to let you go, especially in January.
Or a club had a target and think they are going to keep their star player, but they end up selling him. The next minute, they are looking for a different player.
Maybe you have more options than you thought. Could this work? Could that work? If your parent club is agreeable, your agent will have conversations with clubs, but also your own club is also having conversations. They will say, 'these clubs are interested in you, do you want to have a conversation with them?' So then you need to re-evaluate.
It is incredible to think that one day you could have no-one in for you, the next day you could have four clubs interested - and vice-versa. These things can happen with one phone call.
It starts from the very top. One transfer can filter all the way down through the whole of the Premier League, to the Championship, to every league around Europe. It is mental really.
The manager at Norwich [Daniel Farke] has said he would be happy to keep me but has also said he is not going to guarantee that I play or even be involved in the squad. I have never really experienced a period like this before where I have been fit for a good while but not been involved.
For someone of my age, and where I have been in my career, it is tough to accept when you are sitting and waiting it out. I go in every day, I'm my usual self in training, but it's a tricky situation.
You need to be respectful and professional and ready if called upon but also have to think what's best for yourself, assess your options and do the right thing, because it is a very short career.
There has been interest from all different areas, people phoning and asking the situation. Nothing can be done unless the clubs agree to it and everyone is happy.
That is where it is at the moment. When options are put to me, I will try to make the right choice.
If you are a youngster and not playing, or someone is in for you because you are doing well and it is going to progress your career, nine times out of 10 you don't think twice. You just do it.
"I'll be back playing in Scotland some day"
As you get older, your perspective changes. Finances, family life, the team you are going to - what's their style of play? How you are going to fit into it? - all come into play, rather than simply, 'Is it a bigger club? Are the finances right?' There are a lot more variables involved now.
Norwich have had offers and I believe the clubs have had a chat, in terms of saying, 'This is what we are looking for, is that do-able?' They have said a deal could be done, which is then put to me.
But it is more than just picking a club and going to them. It is about what the club is doing going forward? Is there something I can bring to the team? Can I maybe help along some of the youngsters?
They are big things for me in terms of where I could be moving next. I have a family to think about as well. My oldest is turning five this year, so in England she is in her reception year. In Scotland, she would start school after the summer.
There have been a lot of stories linking me with two of my old clubs, Kilmarnock and Rangers. I have not spoken to either of them, but I am not ruling out any clubs at this stage.
I have not hidden the fact that I am definitely going back to play in Scotland one day. Whether that is sooner or later, we will wait and see. But it is something I really want to do. I want to go back when I have something to give and feel I can contribute and be a big success.
When I was 15, 16, 17, starting out at Kilmarnock, the older pros like Alan Mahood and Garry Hay always had a lot of time for me when I was asking questions. If I can steer some guys in the right direction from my experiences - at Rangers challenging for trophies, going down to Everton and playing in one of the biggest leagues in the world - it is something I feel passionate about.
I wouldn't say any club is off limits, because it is more than just about money.
I am pretty relaxed about the situation. If the right move is there for me, I will know about it.
If not, I am comfortable with that as well. I would work as hard as I can at Norwich, believing in my ability, that I could potentially get back in the squad and then into the team.
'Manager has been honest with me'
If you ask any manager that has ever worked with me, they would all have a positive review of my attitude, what I bring to the squad. Whether I am the first name on the team sheet, or an unused sub, I have the same mentality in terms of being a real team player and trying to drive success.
The manager here has been honest with me. It is just circumstance. I am an experienced player who signed when the club were in the Premier League and now things have changed.
The manager has brought in players he believes in and feels they should be playing. I can't say a bad word about him or Stuart Webber, the director of football. I see him every day; we have some good chats.
This is just part of football. If something comes up that interests me and my family and suits Norwich then something might get done. But, when you take away the hustle and bustle of football, we are in such a privileged position. You have to enjoy it.
There are hard times, and times of uncertainty, but I would never move just for the sake of moving. I don't think that is a great idea for any player.
For 99% of footballers, it is a hobby that turned into a career. That is what you always have to remember.
Steven Naismith was speaking to BBC Scotland's Bryn Palmer