Alexis Sanchez: Arsenal boss Arsene Wenger wants forward to stay
Last updated on .From the section Arsenal285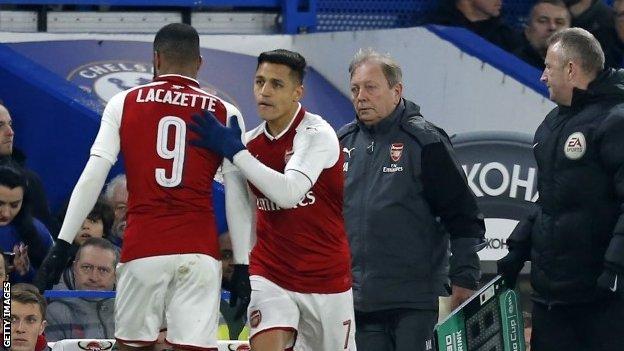 Arsenal boss Arsene Wenger says his decision to name Alexis Sanchez on the bench against Chelsea on Wednesday had nothing to do with transfer speculation, and reiterated his desire for the forward to stay at the club.
Sanchez has been linked with a January move to Manchester City.
"I want him to stay longer," said Wenger.
"I have no problem if he signs with us now or in June.
"You have to accept as well when you play so many games, and Sanchez plays every game, that sometimes a breather in the middle of the season helps them a little bit."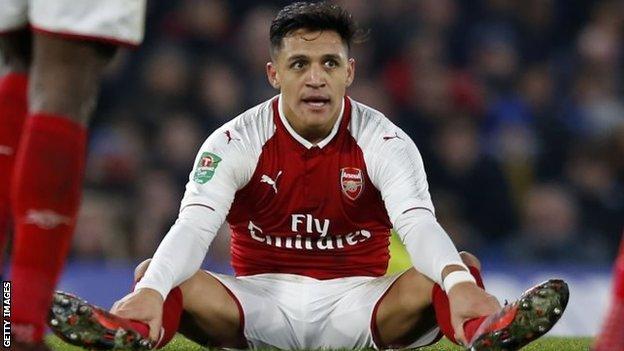 Despite the uncertainty surrounding Sanchez's future, Wenger does not believe the Chile international's commitment can be questioned.
"People don't know Alexis Sanchez - this is a guy completely focused on playing football," added Wenger.
"Did you see how he came on today? How he warmed up? Like a player who wants to play football.
"He can make a difference between what's going on outside and what's going on on the football pitch.
"He doesn't need to tell me he speaks to anybody else. He doesn't need to alert the club. He can do it on his own.
"We live with facts, not with psychological theories. When you come on to the pitch you play football and give 100%. That's what he does."
Sanchez's time at Arsenal
July 2014 - joins Arsenal for £35m from Barcelona on a four-year deal, despite interest from Liverpool and Juventus.
May 2015 - finishes the season as Arsenal's top scorer with 25 goals, including a goal in the FA Cup final win over Aston Villa.
May 2016 - finishes season with 17 goals, despite missing over a month with a hamstring injury, but the Gunners fail to win a trophy.
May 2017 - top scores for Arsenal again, with 30, as they win the FA Cup but fail to qualify for the Champions League.
August 2017 - agrees a £55m move to Manchester City, but Arsenal cancel the deal when they fail to sign Thomas Lemar to replace him.
January 2018 - after the forward scores eight goals in the first half of the season, City again consider signing him with six months left on his deal.