Tom Saintfiet: The minnow master daring Malta to dream of Euro finals
By Robert Kidd
Football writer
Last updated on .From the section Football42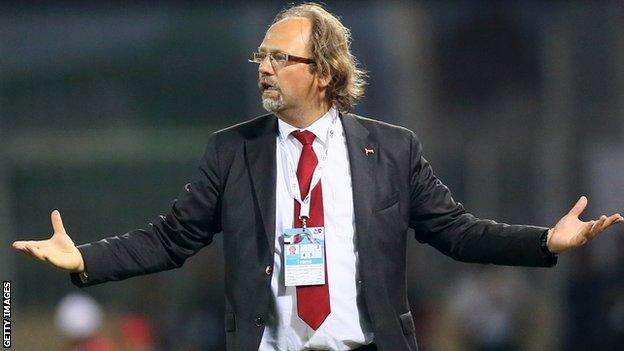 He fled the Zimbabwean army in the dead of night, went to Yemen against his embassy's advice and had an armed escort to training in Bangladesh.
But Malta head coach Tom Saintfiet has never had a challenge quite like this.
"We only have a pool of 64 players to choose from to play against teams like England or Belgium," Saintfiet, who was appointed in October on a two-year deal, told BBC Sport.
"And most of the local-based players are semi-professional. We have a guy who's a property agent, some work in telecoms and another owns a cafe."
Not that the scale of the challenge intimidates Saintfiet - or limits his ambitions.
The man who makes minnows rise
Malta is the ninth national head coach position held by the Belgian, who at 44 already has two decades' coaching experience. Since injury ended his playing career, he has criss-crossed the globe, working with clubs from the Faroe Islands to Qatar.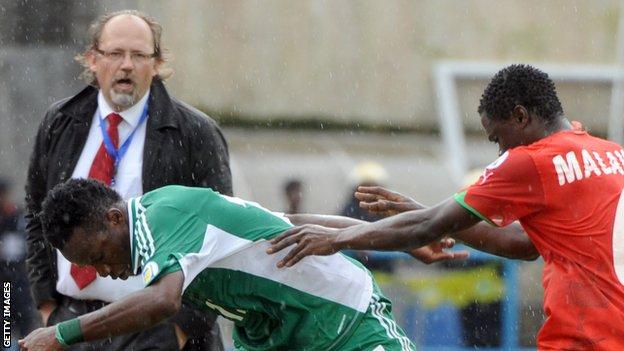 But it is at international level, during spells with Namibia, Ethiopia and Yemen, that Saintfiet has forged a reputation for guiding footballing minnows to surprise results against more illustrious opponents.
In his first international role, with Namibia, local media nicknamed him 'The Saint' after the Brave Warriors rose 34 places up the Fifa rankings.
He oversaw one of the most famous results in Ethiopia's recent history - a draw against a star-studded Nigeria - and made Yemen competitive against arch rival Saudi Arabia.
Yet even for someone used to having the odds stacked against him, Saintfiet has his work cut out with Malta.
'A tougher job than Prime Minister'
The Mediterranean archipelago nation is ranked 185th in the world. The team has won four matches in five years, three of them friendlies.
Saintfiet's squad contains only five players based abroad and Maltese Premier League clubs field up to seven foreign players in their starting XI.
With this shallow talent pool, it is understandable Malta, grouped with England, Scotland, Slovakia, Slovenia and Lithuania in the recent World Cup qualifiers, picked up a solitary point and scored three goals.
The hunt for players sees Saintfiet and his assistant, Ray 'Zazu' Farrugia, watching any competitive football match they can across Malta's three islands, hoping to uncover a diamond in the rough of the local leagues.
"Last week we saw seven games in three days," Zazu, a well-known former Maltese player and coach, said.
"I've been with the federation for 12 years and I've always said one thing - being head coach of the national team of Malta is a harder job than being Prime Minister."
Saintfiet, whose remit includes youth development coach education, says Malta is working hard to develop players. He cites a football academy opened in 2012 where promising youngsters train three times a week. The under-21 team also picked up a record 11 points in their qualifiers for last summer's European Championship.
And he has initiated a global search for potential players of Maltese descent.
Saintfiet pulls up a spreadsheet with dozens of players, most in youth academies of professional English clubs, on his phone. One earmarked for the future, playing in Australia, is only 13.
'I had to flee the country in my training kit'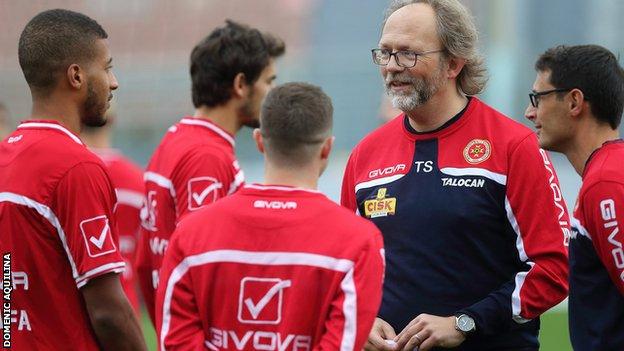 Saintfiet has faced unusual challenges throughout his nomadic career.
After turning around Namibia's fortunes, he became head coach of Zimbabwe.
"I went to Zimbabwe and signed a four-year deal. And after two weeks I had to run away," Saintfiet said.
"On the Monday we had a training session and on Tuesday the message in the newspaper was 'will Saintfiet be deported today?'"
The Zimbabwe Football Association claimed the episode - which ended with Saintfiet fleeing the army for the border while still in training kit - was because Saintfiet did not have a work permit. The coach says his refusal to select only locally based players, allegedly being used in a global match-fixing scam, was the real reason.
After a short-term deal with Ethiopia, Saintfiet won the Champions League of East and Central Africa with Tanzanian side Young Africans before returning to international football in 2012 with Yemen.
"I called the Embassy of Belgium in Saudi Arabia and they said 'every European has to leave Yemen immediately,'" Saintfiet said.
"That's the moment I went to Yemen. My family was not happy."
Saintfiet oversaw Yemen's Gulf Cup of Nations campaign. Despite three 2-0 defeats, including to Saudi Arabia, it was an improvement on previous tournaments, when they were thrashed 4-0 and 6-0 by the Saudis.
A one-game contract with Malawi - a 2-0 defeat by Nigeria - followed, before arguably his biggest national team job, with Togo. Saintfiet coached the African nation, including striker Emmanuel Adebayor, for 14 months.
During a qualifier for the Africa Cup of Nations, a journalist informed Saintfiet the "new coach" was in the stadium. It was time to move on.
Two months later, in June 2016, he took a three-month role with Bangladesh and found deteriorating security in the country.
"We had armed escorts to training. I never walked on the street in Bangladesh. I was only in the hotel, the federation or the stadium," Saintfiet said.
The job that lasted 35 days
In December of that year he received a surprise offer from Trinidad and Tobago, a team with World Cup finals experience.
"From day one it went wrong," he said.
"The day I got presented to the media the [FA] president said 'if he doesn't win against Mexico and Panama in March he can look for a new job'.
"In that moment I thought about standing up and leaving."
He left 35 days later, resigning after disappointing results and the president's ultimatum.
But Saintfiet thrives on being an underdog.
One of his "most memorable games" was Ethiopia's 2011 Africa Cup of Nations qualifier against continent giants Nigeria. Ethiopia had lost 4-0 away.
"At 8am I drove from my hotel to the stadium and there were already thousands of people queuing. The kick-off was 4pm," Saintfiet said.
"The band started playing our anthem and that moment is one of the most beautiful in my life - 30,000 people were singing.
"You saw the players of Nigeria - all big stars - and you saw my team, earning at maximum $200 a month, and you knew this was our game."
For 88 minutes it was. A late Joseph Yobo header secured Nigeria a 2-2 draw.
Inspiration from Iceland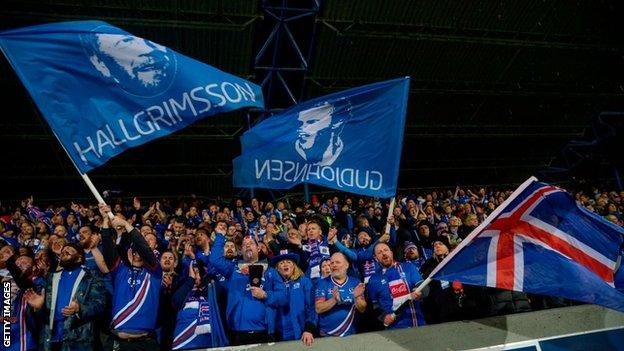 For Europe's smallest football nations, the latest World Cup qualifiers offered inspiration.
Iceland, whose population of about 340,000 is 100,000 fewer than Malta, followed an impressive European Championships by topping their group and becoming the smallest nation ever to qualify for the finals. The Faroe Islands picked up nine points and finished fourth and Luxembourg beat Belarus and drew with France.
Iceland, in particular, have shown other small countries it is possible to punch above your weight, population-wise.
"A lot of people look to Iceland, Faroe Islands, Latvia, Estonia, but these countries already made the change 20 years ago in their development," Saintfiet said.
"Malta started a few years ago and in the next 10 to 15 years Malta will for sure improve internationally and be able to compete on a higher level. You won't see the results in one or two years but in five to 10 years."
An immediate priority is moving to a more progressive style of play where the gameplan is not merely keeping the score respectable.
Although Saintfiet's first match, a 3-0 friendly home defeat against Estonia, highlighted the work ahead, he was pleased his side had more possession and shots on target than their opponents.
Malta's route to Europe's top table?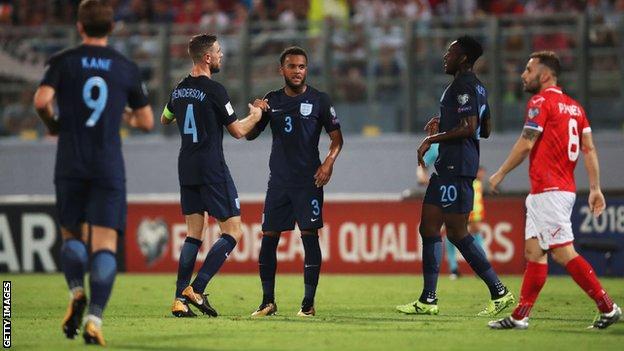 The Uefa Nations League is a key reason for Saintfiet's desire to attack. Beginning this year, the tournament splits Europe's 55 national teams into four groups based on ranking. The draw for the tournament takes place on Wednesday.
Designed to run alongside European Championship qualifying, the format means one of Europe's 16 lowest-ranked teams is guaranteed a spot at future European Championships.
Improbably, it shows Malta a route to European football's top table.
"The moment we play against San Marino, Gibraltar, or even Armenia or Macedonia, maybe we have to implement a different style," Saintfiet said.
"I think this [2018] Nations League will be experimental for us. I hope we can win one or two, maybe three matches.
"And I believe if we can make this development of changing style, developing young players, professionalising our own league and getting more players abroad, then for the 2024 European Championship we could have the ambition to win the Nations League for our level.
"We can dream about competing to qualify for the European Championships in 2024."
Dreams have spurred Saintfiet throughout his career.
"Some people say why don't you coach [more] clubs … but I have one big dream and that's going to the World Cup," he said.
Though that seems impossible with Malta, the well-travelled coach is ready to put down roots.
"People judge sometimes but I worked with federations that were limited financially and couldn't afford a long-term commitment," Saintfiet, who lives on Malta's second largest island Gozo with his wife and 17-month-old daughter, added.
"Malta were looking for a long-term commitment to build and change something in their football.
"I think a lot of people are very convinced about my quality as a coach - now I have to show them that I can build something."