Bristol City head coach Lee Johnson: 'The world has seen what we are about'
Last updated on .From the section League Cup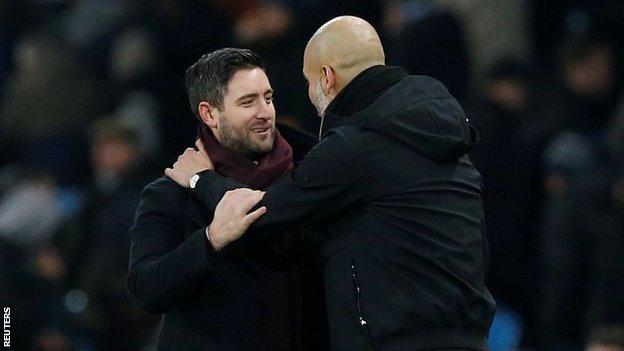 Head coach Lee Johnson said the "world has seen what Bristol City are about" about after his side's narrow 2-1 defeat by Manchester City in the Carabao Cup semi-final first leg.
"I thought tactically the players were outstanding today," said Johnson.
"We had two or three opportunities where we were so close."
Manchester City manager Pep Guardiola, whose unbeaten Premier League leaders have yet to lose a domestic game this season, was impressed by their opponents, who knocked out four top-flight teams on their way to the last four.
Guardiola - who has been critical of defensive opponents this season - spoke to Johnson after the game.
"[I told him] big congratulations. He came here to try to play," said Guardiola.
"He tried to play because Marlon Pack is a good player and the striker has good mobility, so they had courage to play and that is why I think the game was really good for both sides.
"Both teams tried to play. They are up near the top in the Championship. I have a lot of respect for what they have done.
"It is of benefit for football, for fans and for everyone when two teams they go to the pitch and they want to play. When that happens it is up to us to find a way to overcome them.
"We have faced all kind of teams this season who have played in all ways but we have always found the formula or the way to beat them and the way Bristol City came here, it is good for the show."
Johnson, who has managed Bristol City since February 2016, was asked about their post-match chat.
"It was an interesting conversation," he said. "A short one but a conversation that I can pass on to the players, and the credit and the kudos that he has given our football team for coming here and trying to play our way.
"We succeeded in that on a number of occasions. We had to respect that, at times, we will be defending - but we also tried to attack.
"There was some really good play and some really good individual performances and I think that the world has seen what Bristol City are about. I think it has enhanced the players' reputation just that little bit more.
"When we scored I didn't want to make Pep angry, that is for sure," Johnson said while smiling.
The second leg is at Ashton Gate on Tuesday, 23 January (19:45 GMT).
"It is half-time and we have got the away goal and that is important," said Johnson. "We are still in the tie, the buzz continues and the build-up to the game will be very exciting."
Guardiola - whose side are 15 points clear at the top of the Premier League - praised his side's comeback, the sixth time they have scored a late winner this season.
"Without that spirit you can't win trophies in any competition in the world," he said.
"It is easy in the good moments to handle the situation but it is even better in the bad moments when you find out how do you react to those situations, and we try until the last minute.
"That is why we succeed so much in those situations and that is going to be really important, I would say essential, in competitions like the Champions League."