Scottish women's football can be 'at least semi-professional' in next three years

By Jane Lewis
BBC Scotland
Last updated on .From the section Scottish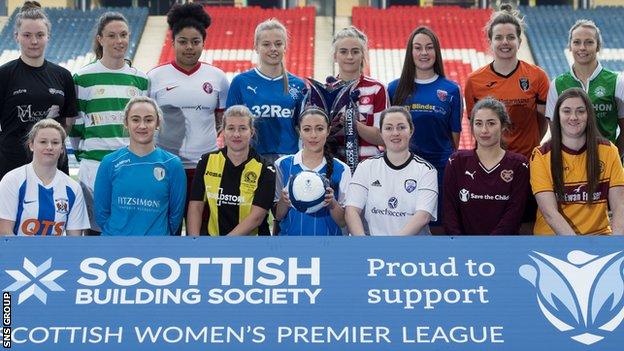 The chair of Scottish Women's Football says it is her "dream" to see top clubs turn professional or at least semi-professional in the next three years.
And Vivienne MacLaren believes there are organisations willing to help fund her ambitions.
There are currently no female professional players in Scotland, with most internationals playing elsewhere.
"Scotland has come on leaps and bounds in terms of the attitude towards women's football," said MacLaren.
"My personal goal is that in three years the SWPL is at least semi-professional, if not professional, and that we are allowing players if they want to have full-time jobs playing football in Scotland to play in Scotland.
"That is our dream and I don't think it's out of the question."
MacLaren has been studying women's leagues across the globe, seeking a model for progress.
"The problem is finance," she told BBC Scotland. "Clubs are not financed to the point of the game in England, which is structured in a different way.
"To run a squad with a combination of full-time players and part-time perhaps students, physios and coaches and having a structure, you're looking at a minimum of £300,000 or £400,000 a year.
"So we've been looking at structures in different countries around the world; in Sweden and Iceland, American and England to say, 'okay how does this actually work?'"
MacLaren is boosted by her belief that "a lot of large organisations" have a desire to help develop women's sports.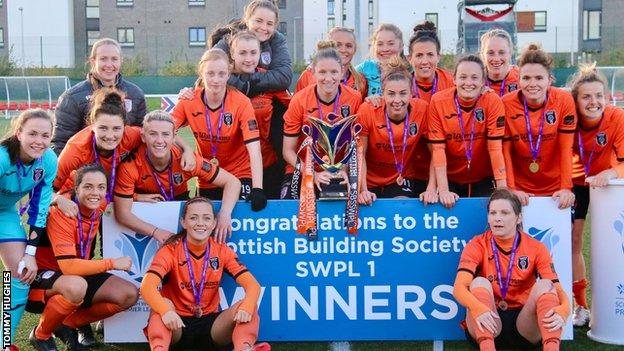 Although there are no professionals in Scotland, some players with champions Glasgow City and Scottish Cup and League Cup holders Hibernian Ladies do sign contracts.
Over the years, several Scots have moved on from their homeland to earn salaries with clubs abroad.
Of the 23 players selected for the Euro 2017 squad, seven were based in Scotland, with high-profile absentees Kim Little, Jen Beattie and Emma Mitchell all attached to English clubs.
"It would be great for women players to have an option and be able to decide 'do I want to stay in Scotland or do I want to go abroad?'" added MacLaren.
On the day the SWPL launched their fixtures for the new season, Scottish FA figures show there has been a significant increase in the number of women and girls participating in football.
In 2001 there were 2,270 registered players; in 2017 that figure had risen to 11,537.
MacLaren is impressed by the growth, saying: "Every year it just gets bigger and bigger.
"I always talk about role models and when you see players like Joelle Murray (Hibernian) and Hayley Lauder (Glasgow City), who have been absolute stalwarts of women's football, little girls and boys have seen that over the years and there's just much more of a desire to want to play football - and there's many more opportunities to play football now.
"The SFA have their soccer academies all round Scotland, so every little girl who wants to play football can do that in their areas."