Dundee United: McDonald accepts Laszlo criticism after 6-1 loss
Last updated on .From the section Dundee Utd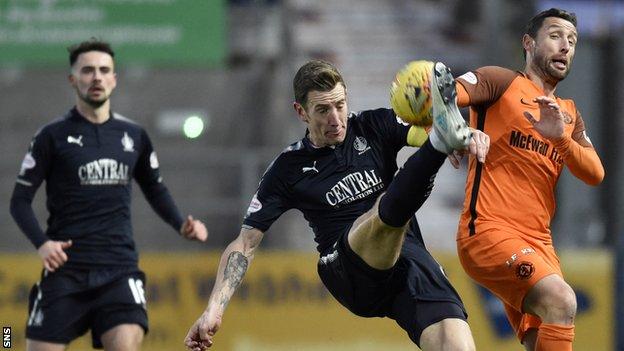 Forward Scott McDonald has no problem with Dundee United boss Csaba Laszlo's comments about his team's performance in their 6-1 defeat by Falkirk.
Laszlo spoke of "shame" and said the result was "embarrassing" as his side slipped six points behind Scottish Championship leaders St Mirren.
"I don't have an issue with that," said McDonald, 34.
"Every man that was in that changing room felt embarrassed and so they should after the game."
And he added: "You don't even want to watch a video, it's a horror show but you have to and we've done that already, talked about it and it's time to stop talking and we've got to get back on the grass again and put on a performance and get back to winning ways.
"We have to keep the pressure on St Mirren, there's no question on that and there's still a lot to play for. There's 16 games to go, it's only one game. The manner of the defeat is the most hurting point."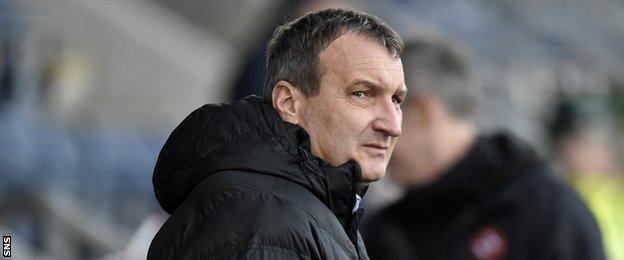 On Tuesday, the United boss urged his players to "take responsibility" before Saturday's meeting away to Dunfermline Athletic, with the Tangerines having a game in hand over St Mirren and a seven-point lead over the Pars.
"It's a massive game for everybody," he explained.
"We have to face this situation and we have to bring back everything in the right way and show that we are really Dundee United, [who] are not just talking about promotion, [they] do something for this.
"We have at the moment even still everything in our hand."
McDonald insists United have "bounced back well" from previous setbacks this season.
"One thing's for sure, everyone's on the same page here so whatever the manager's said in the last couple of days, it's not affected the players, it's not affected anyone," he explained. "Everyone's taken it on board.
"It's not a crisis yet. We have to strive for better and we have to move forward and that means going to beat Dunfermline on the weekend and only then if we beat them, then we can move forward but if we don't then people are still going to be asking questions.
"The manager's said it all now, really, up until now - how he feels, how everyone should be feeling in there. It wasn't acceptable. It was a capitulation [at Falkirk] in the end.
"It's not just one mistake for every goal, there's so many so it was calamitous.
"It's not what we expect as players, as a club. Our fans came in their droves on Saturday, expected a performance and we really disappointed them and let them down.
"It's important that we don't do that again throughout the rest of this campaign. I can't see it happening again.
"[With] the players we've got in this building, it shouldn't be allowed to happen in the first place but it has done so we have to cope with that and we have to come back stronger. Hopefully it's a big wake-up call for us all."