Hartlepool United: Two parties express investment interest in National League club
Last updated on .From the section Hartlepool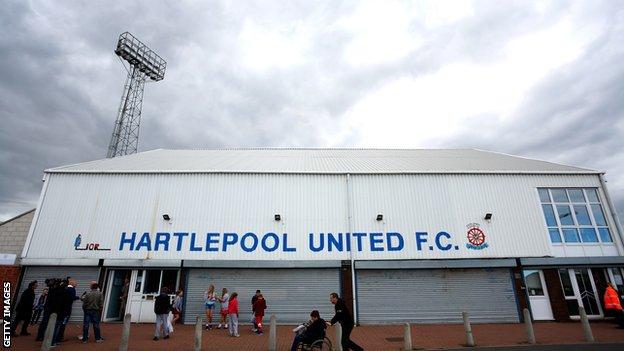 Hartlepool United have two potential parties interested in investment at Victoria Park, but a deal remains some way off, BBC Tees reports.
Owners HUFC Holdings put the club up for sale in December amid mounting pressures inherited from their takeover, described as "legacy issues".
The club needs between £125,000-150,000 to cover wages and running costs.
Staff have been briefed about the impact of the financial situation ahead of the next pay day on 25 January.
The pressure is on the club to find new investment, with fears of administration should they fail to cover costs and meet financial commitments.
Pools had 18 years of stability between the time when Ken Hodcroft took over in 1997 and finally sold up in 2015 to Gary Coxall's JPNG group.
However, Coxall's tenure eventually coincided with relegation from the Football League for the first time, and HUFC Holdings took over last June after purchasing the club for a nominal fee.
Previously, the Hartlepool United Supporters Trust have stated an interest in taking over the club if external investors are not found, and that could still be an option if Pools are placed in administration this season.
"We are very sceptical," Trust chairman Ron Harnish told BBC Tees about the prospect of further investment.
"In all honesty, when we were a debt-free league club - we couldn't get investors then. Now we're a non-league club with a debt, do you honestly think people are going to rush in?
"We have to really believe the club will find an investor, but if they don't we have 24 hours to react and we have Supporters Direct behind us, who are a national organisation.
"They have leant their support but they are also recommending we don't do any of these plans until it's absolutely necessary."