Scotland manager: 'Go and get Michael O'Neill,' urges James McFadden
Last updated on .From the section Scotland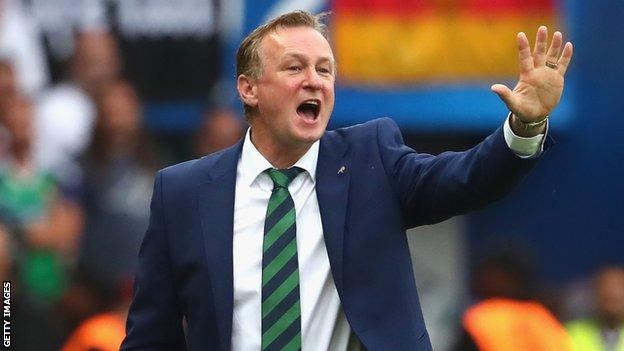 Scotland risk losing out on top target Michael O'Neill if they do not move swiftly for the Northern Ireland manager, warns James McFadden.
Northern Ireland want O'Neill to sign a new deal and he is expected to make a decision on his future shortly.
"You've got to go and get him," said former Scotland star McFadden.
"Bigger nations, bigger clubs, they just do it. You don't hear 'this is who we want' and then not meet the compensation. Meet the compensation, then speak to him."
O'Neill, who took Northern Ireland to Euro 2016 and the World Cup play-offs, is under contract for two more years and has been offered a lucrative four-year extension.
He has spoken to West Bromwich Albion and Sunderland about their recent vacancies and is believed to be under consideration for the Stoke City post.
"Ultimately, most managers want to work in the Premier League," McFadden told BBC Scotland. "If you want Michael O'Neill, you have to go and get him before another club job comes up.
"Look at [former Wales manager] Chris Coleman. Sunderland moved quickly to get him in. They decided 'he's our man' and went and got him. Scotland should be doing the same.
"Michael O'Neill says he wants his future sorted. I think it should have been done long before now.
"He is saying to the SFA 'how much do you want me?' At the minute, they are not showing enough, for me.
"He's been offered a six-year contract (by Northern Ireland), so the gauntlet has been laid down to Scotland. 'Show me how much you want me and I'll walk away from fabulous money'.
'There's a decision that needs to be made and nobody is making it'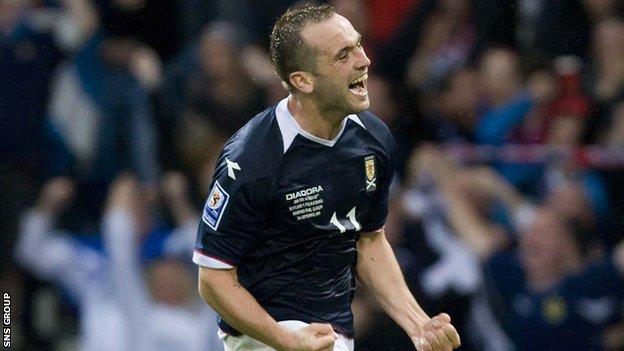 Strachan left his position on 12 October, four days after Scotland fell short in their bid to reach the World Cup play-offs.
Scotland do not play a competitive match until September but McFadden, who scored 15 international goals in 48 appearances, thinks it is vital to have a new manager in place soon.
"We want someone in to start planning for the upcoming games, someone looking at the players who are going to be involved in the next campaign," he said.
"The manager will need friendlies to prepare. Michael O'Neill is similar to [Motherwell manager and former NI coach] Stephen Robinson, who I worked with, putting emphasis on shape and team structure. You need time to work on that with players. You need games to implement that strategy."
With 88 days gone since Strachan's departure, McFadden is frustrated by the SFA's apparent inertia.
"It's typical SFA isn't it? There's a committee, it maybe goes to a vote. They like some things, they don't like other things. It seems there's a decision that needs to be made and nobody is making it."
Alex McLeish has indicated a willingness to return to the job he held for 10 months in 2007 and McFadden believes the 58-year-old former Rangers and Aston Villa boss would be "a great choice".
"He's a great man-manager, a great motivator," McFadden added. "He had a great record and the players will respect him.
"On the other hand, it was starting to go well and he left to take up a club job. That's something we don't want to happen again. We don't want someone coming in to raise their profile; we want someone coming in to improve the team and get us to a major tournament."