January sales: The dos and don'ts for a successful transfer window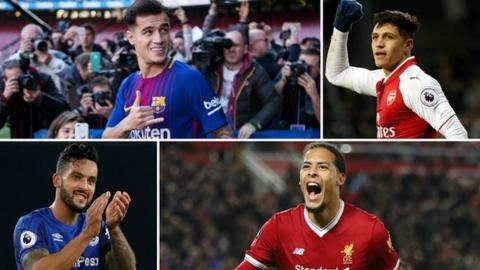 Inflated fees? Panic buys and sure-fire flops? The January transfer window has a reputation for producing somewhat unpredictable purchases.
But the 2018 edition has played host to a number of high-profile moves - Alexis Sanchez and Henrikh Mkhitaryan trading places at Arsenal and Manchester United, Philippe Coutinho joining Barcelona from Liverpool for £142m and the Reds spending £75m on Southampton's Virgil van Dijk.
So is it all a big gamble in the January sales? Or a chance to add vital reinforcements to your squad?
Simon Wilson has worked behind the scenes at Manchester City, Sunderland, and Southampton and gives BBC Sport his top tips for doing business in January.
Drive a hard deal, but not too hard
If you are a selling club, the January transfer window can prove profitable, as Wilson knows from his time at Sunderland.
In the January 2017 window left-back Patrick van Aanholt left the club in a £14m deal, while the Black Cats brought in defenders Bryan Oviedo and Joleon Lescott and midfielder Darron Gibson.
"Patrick van Aanholt was wanted by Sam Allardyce at Crystal Palace, who had worked with the player previously," he said.
"That usually means you are in a position to drive a good price for the player. But it's a delicate balance, it's not all about the money.
"Closing a deal often means you are ready to bring another player in, and the later in the window you go the shorter you have to bring in a new player to the team.
"While the deal is going on you have games, training, risk of injury and to squad cohesion. But this is true on both sides, so in many cases a compromise is found."
Language? Culture? Make them welcome
Helping a new signing settle into the club can be tricky, especially if they are coming from a different country and culture.
Wilson says anticipating the off-field factors is key.
At Manchester City, before Sergio Aguero spoke English, the club made sure all his information was in Spanish, for example.
Helping new signings settle into a social circle quickly and discovering what makes them tick can mean faster adaptation.
That situation is heightened when joining midway through a season, but Bosnia and Herzegovina striker Edin Dzeko, who arrived at Etihad Stadium in 2011 from VfL Wolfsburg, is an example of a player who enjoyed success despite challenging circumstances.
"Initially, Edin Dzeko didn't perhaps play at the level he left in Germany. It's definitely a more intense transition for a player in January," added Wilson, City Football Group's former director of football services.
"Emotionally you start your season in one place and end it in another - coming to a new country, a new city, another set of colleagues and management.
"It's much easier when you can anticipate and prepare for it a little better. In January, you are straight into games.
"With time, Dzeko ended up being a good signing. He did well, contributed to the team winning the Premier League and played often.
"He made an impact when he played, giving the team different options, and as a 29-year-old retained good value for the club on his sale to Roma [in 2016]."
Don't be turned by 'sexy' players
Wilson says there have been good examples of clubs sticking to their philosophy, despite changing manager or playing staff.
He says both Manchester City and Southampton are perfect case studies for implementing such a process, currently driven by sporting director Txiki Begiristain and executive director Les Reed respectively.
"First off, they rarely - if at all - change management in season," said Wilson, who was head of performance analysis at St Mary's from 2002 to 2006.
"When they do change, although the managers brought in will have different strengths and weaknesses, the underlying philosophy of the club is the same.
"When buying players, the club will bring three or four names to the manager and look at cost profile, age profile and position profile, and then take the decision together.
"That really is to be applauded, as it would be easier to diverge from that philosophy when a "sexy" player comes along who is outside the model, just out of budget or too old.
"Tottenham, Atalanta and RB Leipzig are others who have a clean ideal and stick to it, and it's no surprise they make big profits on the other side."
If you have to change boss, avoid collateral damage...
Eight Premier League managers have lost their jobs since the close of the summer transfer window - including Watford's Marco Silva being replaced by Javi Gracia just 10 days before deadline day.
"Whenever a manager comes in, you are dealing with the legacy of the previous regime, and the regimes aren't long enough, typically, to really correct it," explained Wilson, who joined Sunderland as chief football officer in 2016.
David Moyes was in charge at the time, becoming the club's fifth permanent manager in three years.
"We certainly felt the effects of Sunderland's history of managerial turnover in both the squad and infrastructure. It was probably pieces of four or five managers rather than one," Wilson added.
"Every manager has their preferences. Some have a higher desire for a type of player to fit a playing model, some believe the need for instant results dictates they need more Premier League experience - especially if they're in a relegation fight or struggling."
But Wilson believes even when a club changes manager their ideals should remain.
"Changing strategy mid-season can mean a lot of collateral damage to your organisation," he said.
"The majority of costs are in players, so changing the qualities you're looking for could mean many of the current group are not fit for purpose, and replacements - that the whole market knows you are looking for - have to be found.
"Similarly, your staff will have been built against a way of working, and will either need to adapt quickly or there can be turnover and movement.
"This volume of churn - if done repeatedly - is not an efficient way of working."
Most importantly, do your homework
The January transfer window might appear to outsiders as a panic-buying frenzy, but Wilson says clubs are grateful for the opportunity to react and recruit, be it due to performance or injury.
He says Premier League clubs are likely paying attention to the following situations in the January market:
changes in situations for longer-term targets who they have been tracking for some time
shorter-term impact players - out of favour at other clubs but have qualities relevant to their own club's current needs.
"Most of the pro-active planning for clubs is done in the summer, when management have clear heads and take a more objective view," he added.
"Clubs will typically look multi-year at the squad - the quality, age profile, contracts, cost, and how to evolve it over time.
"But in January, given it's the middle of the season and the last chance to adapt before your team's fate is decided, clubs can be a lot more emotional.
"For a long-term target, it may be that the selling club are able to do the deal now due to their own squad circumstances."
Wilson highlighted the examples of Philippe Coutinho and Daniel Sturridge at Liverpool.
The Reds signed Sturridge from Chelsea in January 2013, while Coutinho arrived from Inter Milan during the same window, before leaving for Barcelona this year.
"Both players would have been well known and had plenty of work done on them, so they could take opportunity of a good deal," explained Wilson.
"With impact players, you often need to be much more reactive. Depending how late in the day clubs become aware of the situation affects their level of comfort in taking the player."
And while fewer available players or time to create options make January a seller's market, Wilson says there is value to be found.
"More situations unfold and players can suddenly become available you hadn't factored in," he added.
"It's here the quality of your staff and their preparation count. You'll need your information all in order so you can move quickly.
"The best will have a clear plan with solutions for differing scenarios, and be able to work the market in their favour. The whole thing must be joined up, from the scouting to the squad management to the negotiation."