Bayern Munich: Thomas Muller and James Rodriguez say winter break an advantage
Last updated on .From the section European Football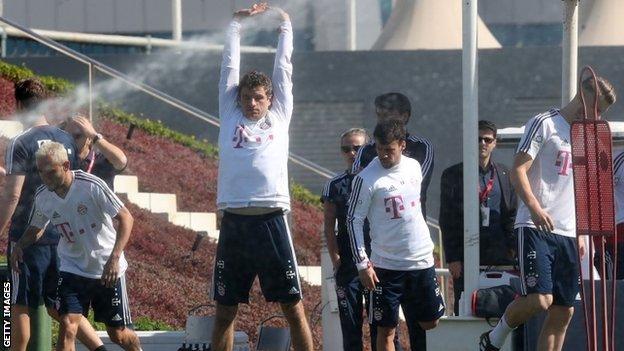 Bayern Munich pair Thomas Muller and James Rodriguez both think Premier League players would benefit from a winter break.
The German league leaders - who are training in Qatar - have had no games from 20 December to 12 January.
In that time, Manchester City will have played six games.
"I think it's an advantage for us. We have this little break and it's also good for dealing with the mental pressure," Germany forward Muller said.
"I can imagine the difficulties for the players in England to be playing for 10 or 11 consecutive months. They might get sick of seeing a football game. They would like a break too and then they see the World Cup is coming up. I think it's perfect for us and we should be able to take an advantage."
City boss Pep Guardiola, Muller's former manager at Bayern Munich, has said the festive period is "going to kill the players" after they beat Watford 3-1 in their 10th game in a month.
Colombia attacking midfielder Rodriguez, on loan at Bayern from Real Madrid, said: "I believe it's good to have this winter break. The body needs it. It's tiring to have so many matches in a row.
"I support the idea of having a break, so your body can recover well. We all agree that the season is quite long. Therefore, this winter break can be only positive."