Jake Livermore: West Ham investigate West Brom midfielder's altercation with fan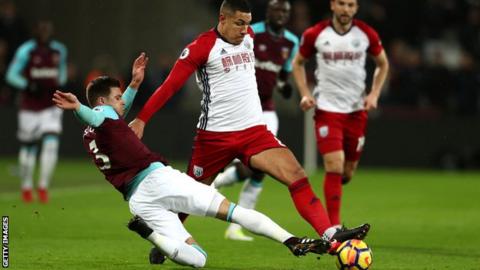 West Ham are investigating the reason behind West Brom's Jake Livermore confrontation with a fan at the London Stadium amid suspicions it may relate to the death of the midfielder's son.
The England midfielder became involved in an angry exchange with a fan after he was substituted in the second half of his side's 2-1 defeat.
Livermore and his partner lost their newborn son Jake Junior in May 2014.
Neither club has commented about the precise reasons behind the incident.
West Ham are leading the investigation and said they have identified the supporter involved in the confrontation with Livermore. The man was spoken to by stadium staff on Tuesday evening and removed from the stadium, the club said.
Speaking after Tuesday night's match, West Brom manager Alan Pardew said he did not know what had prompted Livermore, 28, to react as he did.
"Obviously you don't want to see a player in the crowd," he said.
"There's no way he's going in the crowd - because I know him, he's a great lad - unless he was provoked severely. That's all I know.
"I haven't had a chance to talk to Jake. I'll speak to Jake and we'll go from there."
West Ham manager David Moyes said he did not see the incident, but added: "I didn't know about it, but I've been told something happened."
Livermore failed a drugs test in May 2015, almost a year after his son died and the Football Association decided not to ban him because of "the unique nature of circumstances" involved.
In August 2016 he told BBC Sport: "It was a young human being who got lost in circumstances and didn't know how to react."