Celtic 0-0 Rangers: Champions 'in need of renewal' after losing edge - Tom English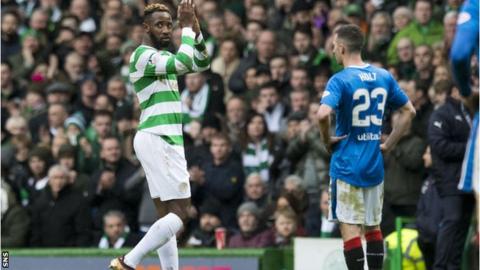 Moussa Dembele's slow retreat from the action on Saturday at Celtic Park could serve as a symbol for the team's lost edge in recent times.
Here was a striker who began 2017 with a spring in his step and goals in his armoury. In the first six games of the year, when Brendan Rodgers' team had an intimidating quality, he scored 10 times; in the last six games of the year, when Celtic had dropped their level, he didn't score once.
Back then, Dembele was on his way to a 32-goal season. Praise of his performances went far and wide. Last October, Zinedine Zidane came out with an extraordinary comparison. "I have played with the greatest strikers - Ronaldo, Henry, Raul - and you knew on the biggest occasions they would win you games. Dembele is already showing that."
Moussa Dembele's record - last two seasons
2016-2017
2017-18 - so far
32 goals in 49 games
8 goals in 21 appearances
He was being talked about as a £30m-£40m player. Chelsea were said to be interested. Now, the goals and the influence have dried up a little (injury hasn't helped him) and the suitor and the price tag have changed.
It's not Chelsea anymore, it's Brighton. It's not £30m or £40m that's being spoken about, it's £18m. Zidane has fallen silent.
There's no doubt about Dembele's class. He's 21 and he's going places in this game. What's in question is his passion for playing in Scotland much longer. If that slow and deliberate walk on Saturday proved to be his farewell to Celtic then nobody will be surprised.
Rodgers was later asked if this was his striker's last game for the club. "I wouldn't know," was the manager's cryptic response.
Celtic have dropped almost as many league points in December (seven) as they did in all of last season (eight). After their invincible domestic season there was always likely to be a drop-off. They're currently 13 points behind where they were this time last year.
They resemble a prize-fighter who produces steely focus and sustained excellence on his way to unifying the titles and who then loses something when he gets to the top. He's still the best, but he's not as good as he used to be. He's still defending his crowns, but there's a trace of vulnerability now.
That wasn't just evident in the second half against Rangers on Saturday. Even before Hearts brought an end to the unbeaten run, there were unconvincing days and nights this season against Partick Thistle, St Johnstone, Hibs (twice), Dundee, Kilmarnock, Ross County and Motherwell.
They were all over Rangers in the opening half at Celtic Park but couldn't take advantage.
Dembele looks to have lost his powers. Scott Sinclair still scores and assists freely, but he's not as consistently influential across the span of a game as he was before. Leigh Griffiths' confidence has suffered because of the rotation of the strikers. He doesn't look the same man either. Three game-winners, all diminished.
Rangers were value for their point. David Bates was excellent in defence, Ross McCrorie is a growing presence in midfield. Two young players to be proud of. James Tavernier might be a suspect defender, but what an attacking force he can be on his best days. Alfredo Morelos should have scored at least once, but he's been a fine signing, one of the few of the summer haul who's worked out.
Everybody at Ibrox ought to be enthused by what they produced in the second half, but shouldn't be fooled by it. They were defensively sound and dangerous out wide. They created a heap of trouble for Celtic and did it without Lee Wallace, Ryan Jack, Kenny Miller and, most notably, Graham Dorrans, a player who scored five goals in 10 league games before his injury.
It was another encouraging result on the road for Graeme Murty, following on from wins at Pittodrie, Easter Road and Murrayfield against Hearts. Rangers have shown that when the mood strikes they can raise their level, but their level fluctuates so wildly that you can't read anything into what happened at Celtic Park.
They beat Hearts but then lose to Hamilton and Dundee. They beat Aberdeen (twice) and Hibs and then get well beaten by St Johnstone and Kilmarnock. Rangers have won only 52% of their domestic games this season and are two points behind where they were at this stage last season. They're a side capable of better things, but there's a self-destruct at their heart, a crazy inconsistency that makes it impossible to trust them.
Celtic have already got one trophy in the cabinet this season and are eight points clear of Aberdeen in pursuit of another - a seventh straight league title. Only the brave would bet against them completing a second treble on Rodgers' watch.
Silverware is the ultimate barometer of a club like Celtic, but it's not the only one. They started their year with all the answers, but there are more questions now. Are they progressing or regressing?
At this stage of the league season (after 22 games), they're one point behind where they were in Ronny Deila's last season in charge. What does that say? Is it down to tiredness after playing 38 games already - or is it reflective of something else?
Whither Dembele? The much-criticised Carlos Pena has scored as many league goals as him this season.
Whither Griffiths? In the Premiership, the one-time 40-goal man has been outscored by Alfredo Morelos, Kris Boyd, Louis Moult, Kyle Lafferty and Anthony Stokes in the first half of the season. That's hardly a surprise since he's started just nine league games compared to 13 for Moult, 15 for Stokes and Boyd, 16 for Lafferty and 18 for Morelos.
Celtic have two main strikers and they're not getting the best out of either of them right now. Rodgers has a lot of thinking to do with the Europa League tie with Zenit appearing on the horizon soon. Celtic only have Brechin City, Partick Thistle, Hibs, Hearts and Kilmarnock to play before the Russians land in Glasgow.
Rodgers sounded mightily relieved to get to the winter break. He said he wasn't 100% happy that his players were now getting a rest, but 150%.
They're heading for Dubai to re-energise themselves - and on the evidence of recent months, that renewal is needed.