Everton new stadium cost has 'escalated' significantly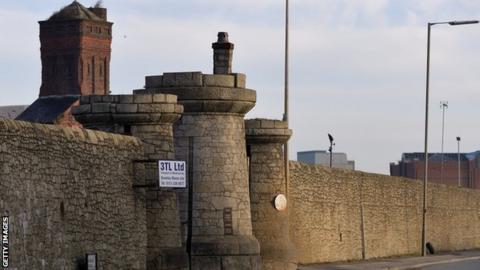 Everton say the cost of the club's proposed new stadium has "escalated significantly" but they hope to move in for the start of the 2022-23 season.
The club agreed a deal to acquire land on the Liverpool waterfront at Bramley Moore Dock in March 2017.
Chief executive Robert Elstone said he hopes to finalise funding and get planning permission in 2018.
He also wants an "ambitious capacity" for the new stadium but has not given an official figure.
When the Bramley Moore Dock plan was announced, the cost of the new stadium was expected to be around £300m.
Elstone said the work required to transform the 19th century dock into a site for a stadium, its "premium" waterfront location and inflation have all increased the cost of the project.
He said he believes a potential naming rights deal, sponsorship and bigger attendances at the new ground will recoup their investment.
"All our efforts during 2018 will be focused on meeting this challenging but achievable target,' he wrote in a letter to fans.
"We are moving ever nearer to securing a significant proportion of the funding we will need to build the stadium.
"That funding target has escalated significantly and has occupied much of our efforts of the past 12 months.
"It's a challenge that has always had the full support of Liverpool City Council and throughout 2017, we have been totally committed to finding a funding arrangement that works for the club and the city."
Iranian businessman Farhad Moshiri bought a 49.9% stake in Everton in February 2016 and quickly outlined plans for a move from Goodison Park, which has a capacity of 39,572.
An initial plan was to build a stadium at Walton Hall Park, a short distance north-east of the club's home since 1892, but those plans were abandoned in May 2016.
Everton had previously abandoned plans to move to King's Dock in 2003, and Kirkby in 2009.
Elstone said the club are working on "impressive legacy plans for our existing home at Goodison Park".