'Virgil van Dijk is the best I have ever played with,' says Celtic's Craig Gordon
Last updated on .From the section Celtic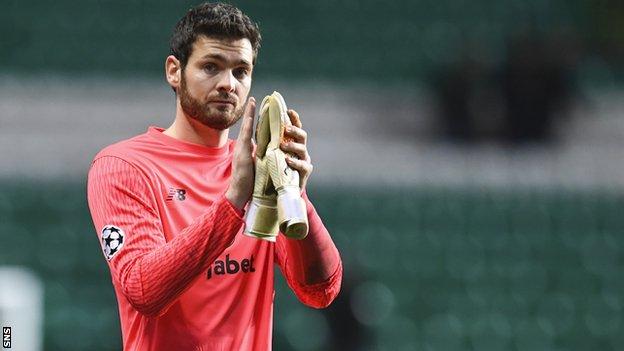 Celtic goalkeeper Craig Gordon is convinced former team-mate Virgil van Dijk is worth his £75m price tag.
"The bigger the game the better he plays and he's probably the best player I have played with," Gordon said.
"It's over £100m for a striker now so for somebody who can stop them? He could have eight years at Liverpool, so it could be good value for money."
Van Dijk, 26, joined Celtic for £2.5m in 2013 and moved to Southampton for £13m two years later. Celtic included a sell-on clause which means they receive a significant sum - thought to be 10% of the transfer fee - when the deal is finalised.
"He's without doubt the best centre half that I have every played with," Gordon added. "He has absolutely everything to go on and become one of the great centre halves in world football. He's a fantastic footballer and I'm sure he'll do a great job at Liverpool.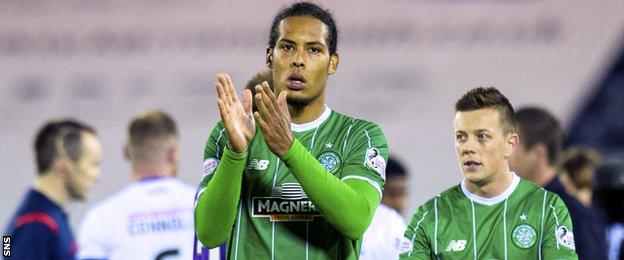 "He'd be the benchmark for anyone coming through here to aspire to.
"Every time you see him play it looks so easy for him. He really can do everything, you could probably play him anywhere, he's so quick and strong, he can head it and can even score free-kicks.
"He really is a complete football player. There's not too many centre halves in world football that can play that style of play that people are looking for at the top clubs, to be that comfortable on the ball and to be able to defend. You'll really see the best of him and he will show what a good buy he will be for Liverpool."
Celtic boss Brendan Rodgers, who managed Liverpool from 2012-15, added: "Virgil has gone to a brilliant club where every aspect of you as a player is tested. He looks a great talent.
"He just has to go and work and play, and I'm sure he'll do very well."
Celtic have cast the net wide in recent years as they look to buy young players, develop them and then make money from their sale.
Van Dijk is one of the best examples of this strategy succeeding and, while he was reluctant to draw comparisons between the pair, Gordon sees plenty of potential in 19-year-old Norwegian centre-back Kristoffer Ajer, who could start against Rangers on Saturday.
"He has everything - he's physically very strong for a boy that young, he's a clever lad and very level headed," Gordon said.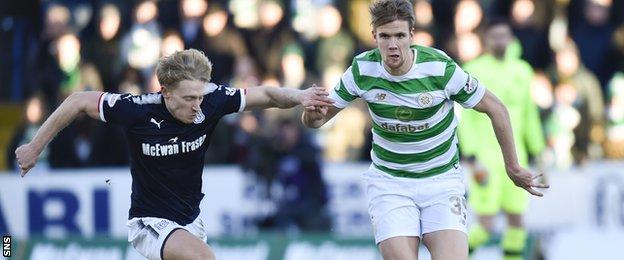 "He has everything a top central defender should have - he has decent pace, he's good in the air, he's strong, and when you put on top of that his ability to come out with the ball, as he started his career in midfield so he's comfortable on the ball. He's a real threat at set-pieces as well."