Derek Ferguson: racism has receded, but more education still needed
Last updated on .From the section Scottish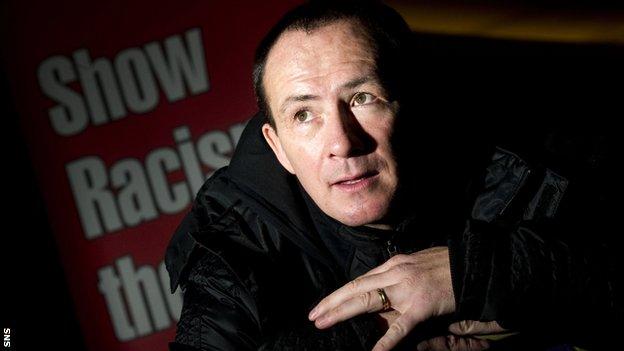 Anti-racism campaigner Derek Ferguson says Scottish football has come a long way since bananas were thrown at Mark Walters 30 years ago, but progress can still be made.
Ferguson was a team-mate of Walters at Rangers, and uses his recollections in his work with Show Racism The Red Card.
"We are in a better place, but we've still got a bit to go," Ferguson said.
"Thirty years ago it was horrendous, but with education things have got a lot better."
Ferguson visits schools as part of his work with the campaign group and believes that football can play a role in eradicating racism from society.
He saw Walters targeted before, during and after games after signing for Rangers in December 1997, but also witnessed racism against Stranraer player Gregory Tade while Ferguson was assistant manager at the club. Current Celtic winger Scott Sinclair has been the victim of racism during his time in Scotland.
"I talk about Mark, I talk about that incident [when fruit was thrown onto the pitch at Celtic Park and Tynecastle]," Ferguson told BBC Sportsound.
"There are certain areas I go to where it is rife. From my football point of view it will get through to [young people] about having that respect and treating people the way that you would like to be treated.
"You've got to be really careful with the terminology and that's why we're in the schools, to pass on that message. It can be hurtful and damaging using certain language. Fans police themselves in their own ground [now], which is brilliant."
Ferguson said the racism that Walters suffered - which included off -field incidents when he was out socialising- also affected his team-mates.
"It wasn't just on the park, prior to games getting off buses I witnessed all too often a surge towards Mark, not just adults but kids, hurling abuse," Ferguson said.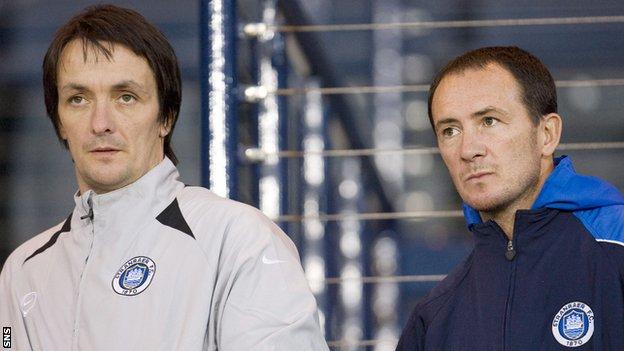 "What he had to endure was unbelievable. The same thing happened with Paul Elliott as well, Victor Kasule was at Hamilton at that time. It was horrible to witness, and it didn't just affect Mark, it affected his team-mates.
"When I look back, I get angry with myself. I was a young guy at that time. I wish I'd challenged it, but I didn't know any better. The games should have stopped, but we just carried on.
"I was embarrassed. Mark might have thought are all Scottish people like that? Do they have a hatred for black people? Now, things have got a lot better, and it comes down to education. Mark does a little bit of [anti-racism campaigning] down south.
"Players make a stand now and rightly so because you're out there to play football and entertain, but no way should you take abuse because of the colour of your skin, or the religion you follow. If the line is crossed, you should stand up to it, and if that means stopping games, do it."