Vincent Tan: Cardiff owner will back boss Neil Warnock but won't spend 'silly money'
Last updated on .From the section Cardiff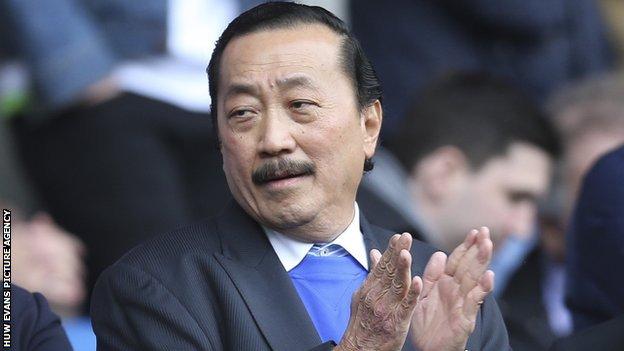 Cardiff City owner Vincent Tan has promised to back manager Neil Warnock in the January transfer window, but will not spend "silly money".
The Bluebirds are third in the Championship and the Malaysian businessman said new faces will arrive in the Welsh capital next month.
But unlike the last time Cardiff went up, there will be no big spending.
"We will spend some money. A reasonable amount, no silly money, those days are gone," said Tan.
Tan, who attended the Boxing Day 4-2 home loss to Fulham, told BBC Sport Wales he also hoped to tempt veteran manager Warnock to extend his contract and stay at the club next season.
The Malaysian businessman compared the current team favourably with the last Bluebirds side promoted to the Premier League under then-boss Malky Mackay in 2013.
Tan sacked Mackay four years ago after relations between the pair soured.
'We trust Neil to bring in the right players'
"We are all very happy. Speaking on behalf of many people who love this club we are very happy. Neil Warnock has done a great job," said Tan.
"We are blessed to have a great manager and we are blessed to have players who have done well. We didn't spend a lot of money compared to recently when we spent a lot of money.
"The current team is comparable (to the last promotion-winning side). The only one difference is, I think, the previous team we spent over £20m and this team we spent not so much.
"I'm enjoying it because I don't spend silly money any more. When you are not spending silly money it's not too bad.
"We believe we will spend wisely and we have a great manager who will spend wisely, who will not buy players that we don't even play or start. So we will spend some money, but not a lot.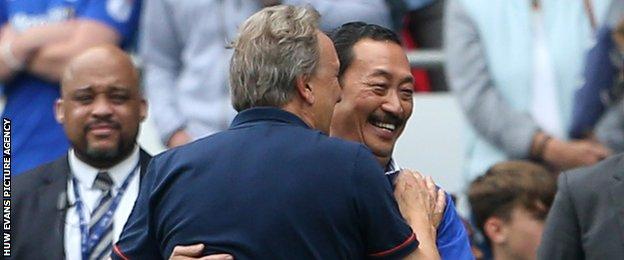 "We trust him (Warnock) to bring in the right players. He has done that."
Tan ruled out selling any of Cardiff's current top players, but said that a host of injuries which have struck the Bluebirds squad made it important to back Warnock when the transfer window opens.
"We are happy with the squad so we will add to it. We have to bring them in as there are injuries," Tan said.
"Neil has the knack of bringing in players who do not cost us a lot, but can perform. Overall I think we are in great shape and I hope we will be blessed with a promotion."
Tan confirmed the club was in talks with 69-year-old Warnock about staying next season and said those talks were going well.
He added: "We are talking and I believe, I hope, we can reach a positive conclusion to the talks. So far it's being going well and been positive."