Partick Thistle: Gary Fraser apologises after striking Celtic fan with ball
Last updated on .From the section Partick Thistle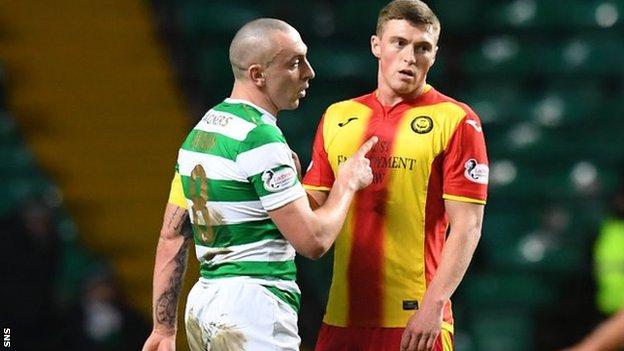 Partick Thistle midfielder Gary Fraser has apologised to the Celtic supporter he struck with a ball during the Premiership loss at Celtic Park.
Fraser, a second half substitute in Wednesday's 2-0 defeat, was booked by referee Alan Muir after kicking the ball into the main stand.
In a statement, Partick said the player "deeply regrets his actions".
"I can only apologise both to the supporter I struck and everyone else who was at the ground," Fraser said.
Describing the incident as "inexcusable", the club added: "in a moment of frustration, [Gary] kicked the ball into the main stand at Celtic Park.
"Although he intended to hit the wall at the front of the stand the ball ended up hitting a supporter, which was inexcusable. Gary has phoned and spoken to the supporter whom he struck with the ball and offered his personal apology, which was accepted."
The player has also invited the fan, plus a guest, to Firhill for the Premiership match between the two sides in January, the club added.
Reflecting on a "moment of madness and stupidity from me", Fraser said: "Of course it should never have happened but I absolutely did not mean to hit the ball into the stand and certainly had no intention of hitting anyone with it.
"It reflected badly on me and on the team and I feel like I've let down the club. As soon as it happened I realised what I had done and was devastated. All I can do is say that I am genuinely sorry and that is why I wanted speak to the supporter myself today."
The Scottish FA has confirmed no further action can be taken against Fraser as the incident was dealt with at the time by the match officials.