Hamilton: Martin Canning wants players to control their discipline
Last updated on .From the section Hamilton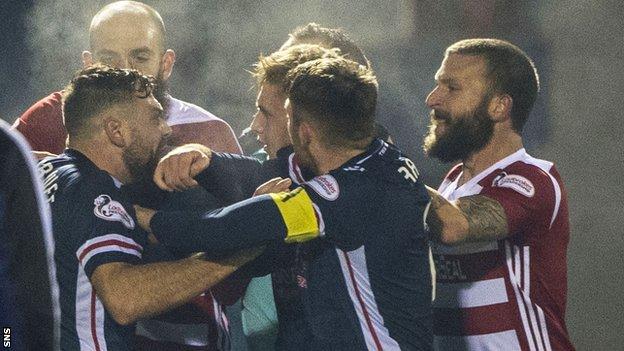 Hamilton Accies manager Martin Canning says his players should not have lost control of their discipline during the weekend win over Ross County.
Ioannis Skondras was sent off for his involvement in a melee that drew in players from both sides.
Hamilton and Ross County were also charged with failing to control their players during Accies' 3-2 win.
"We shouldn't be taking it that far," said Canning. "We have to try and control ourselves."
Greek defender Skondras has himself been charged with "excessive misconduct" by the Scottish FA and could face an extended ban.
It is the second time this season that Canning's side have been warned about their conduct after a confrontation between players and staff at Tynecastle earlier this month.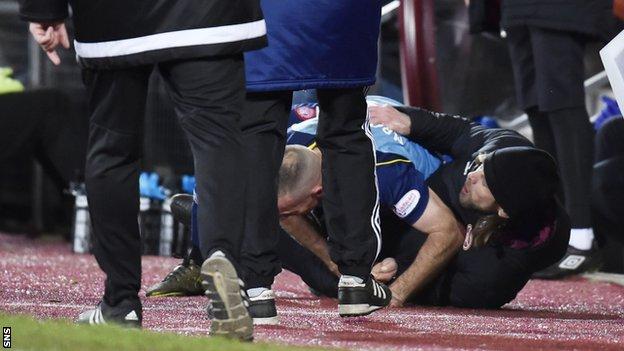 Hamilton have until 28 December to respond to their charges and, although the club has yet to decide how to respond, Canning was disappointed with how his players reacted.
"I've not had a chance to sit and digest it properly," Canning said. "I will need to have a chat with the owners and see where we go.
"There's a hearing on 11 January, so we will see how it unfolds."
Skondras was involved in a tussle with Ross County defender Kenny van der Weg.
"I think van der Weg kicked it off by pushing Ioannis and, when that happens, both teams protect their team-mates and, given the amount of pressure on the game - and an 89th-minute goal, you can understand the emotion of the game boiling over," Canning added.
"But it's no excuse for us to have a player sent off."