Jesse Lingard: Manchester United 'would be top in any other year'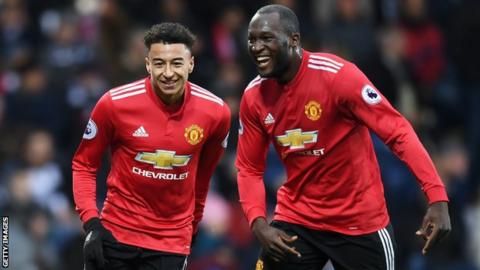 Manchester United midfielder Jesse Lingard says his side would be top of the Premier League "in any other year".
United are second in the table after winning 13 of their first 18 games - but they trail league leaders Manchester City by 11 points.
City have won 16 consecutive league games and Lingard said United may have to win every match to have a chance of catching them.
"If we keep winning games that's the most important thing," he said.
"With the squad we have got, we have to always believe in each game. Some games we will play badly and win and sometimes we will play well and lose.
"I think any other season we would be top with the points we have, so as long as we keep winning we will see where we are."
Fact check: Is Lingard correct?
Manchester United's record of 41 points (with a +27 goal difference) from 18 games would have put them top in 12 of the 25 Premier League seasons to date - most recently in 2015-16.
An understanding with Lukaku
Lingard has scored seven goals for United this season, his best return for the club, and he is playing centrally with Romelu Lukaku, who also scored in Sunday's 2-1 win at West Brom.
He said: "Obviously I'm hungry for more goals and any way I can help the team - assists, goals - and to win the game is the most important thing.
"Playing centrally I think you get on the ball a lot more and you can make things happen more. You can obviously play closer to the main striker and get the bits off him.
"Playing further forward, you are going to get more goals and create chances so to play there with Romelu, we are getting that understanding now and chipping in together."
United visit Bristol City in the Carabao Cup quarter-finals on Wednesday (20:00 GMT).