The Fifa trial with the drama of a Mafia movie

By Richard Conway
BBC Radio 5 live sports news correspondent
Last updated on .From the section Football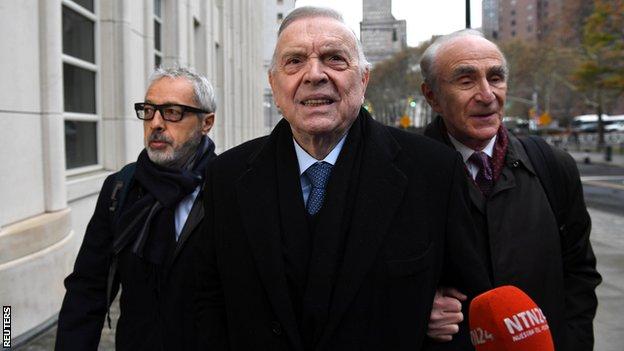 "There are mysteries to be solved; there are whodunits. This isn't one of them."
The closing argument of Assistant US Attorney Sam Nitze in summing up a month's worth of startling evidence in Brooklyn was very clear.
"Some things are just the way they appear," he said.
The trial of two former South American football officials, accused of rampant corruption while leading their respective football federations and at Fifa, the sport's world governing body, is now over.
The wait continues for the third man - Manuel Burga - with jury deliberations over a conspiracy charge set to get underway again on Tuesday.
After days of lengthy deliberations the jury agreed with Nitze and the US government's accusations against Jose Maria Marin and Juan Angel Napout.
Throat-slitting gestures
This case though has been likened to one involving the Mafia.
It's easy to see why. Some of New York's most infamous mobsters would no doubt be proud of the tactics apparently employed in recent weeks.
The only difference is that this trial involved members of the so-called "football family" and not gangsters from the Gambino or Lucchese clans.
It began in November when prosecutors sought an anonymous jury, claiming alleged attempts to intimidate witnesses and obstruct justice, and swiftly progressed in the first week to claims in court that Burga made throat-slitting gestures toward the prosecution's star witness.
It was, according to Burga's lawyer, a simple misunderstanding. His client was merely scratching a rash on his neck and was not threatening the man delivering devastating testimony against him. The judge disagreed.
Juan Angel Napout of Paraguay and Jose Maria Marin of Brazil are far from household names in Europe.
And yet, following these guilty verdicts, they join a long and tawdry list of executives we now understand used football as their personal cashpoint.
They stand in disgrace alongside many others who viewed the sport as a gilt-edged opportunity to command multi-million dollar bribes in return for handing out lucrative rights' contracts to anyone willing to grease their palms.
They once rubbed shoulders with the game's greatest players, had the best seats in the stadium, travelled first-class and stayed at the finest hotels.
They are now facing up to the prospect of significant time in American penitentiaries, enjoying radically different conditions to the luxury lifestyles they once enjoyed.
The case has been touched by tragedy too.
An Argentine government official, Jorge Delhon, who helped administer the country's state owned portfolio of domestic TV football rights, killed himself just hours after being named in court as receiving millions of dollars in bribes.
Calls to pop stars & Qatar questions
The court has also witnessed a number of bemusing moments.
One came when the prosecution called Kevin Jonas, of the American pop band the Jonas Brothers, to establish that a Paul McCartney concert in Buenos Aires had taken place. Napout had not only denied receiving $10,000 worth of tickets but also the very existence of the event.
Fifa will hope to contain the fallout from these verdicts but it may not be over the worst just yet.
Marin's successor as head of the Brazilian football federation, Marco Polo Del Nero, was provisionally suspended by Fifa last week following evidence presented in court that he was complicit in bribe taking.
He has remained in charge despite being wanted on charges of corruption by US authorities since 2015.
Then there were the repeated references during court testimony of alleged payments made to the men on trial, and other officials, in connection to the 2022 Qatar World Cup.
Those providing the evidence were unable to say what the payments were for.
Tournament organisers in the Gulf country have denied any wrongdoing and say they stand by the integrity of their successful bid to host the competition.
Is this really a 'Fifa trial'?
These guilty verdicts are the result of many years of investigation work.
It was back in May 2015, in a dramatic dawn raid at a Zurich hotel close to Fifa's hill top headquarters, that the world became aware of on-going efforts by American law enforcement to ensnare football and TV executives enriching themselves through football.
42 people were indicted. 24 of those caught have pleaded guilty, cooperating with prosecutors in the hope of securing reduced sanctions and sentences.
The results of the investigation prompted massive upheaval at Fifa, with its beleaguered president Sepp Blatter eventually succumbing to huge pressure and agreeing to stand aside in what was supposed to be an orderly transition of power.
He was however denied the graceful and triumphant exit he so desperately craved.
Blatter remains under investigation by Swiss authorities having been banned from football for six years by Fifa over allegations of financial misconduct involving Uefa's former president Michel Platini.
Insiders at the world governing body have privately complained in recent weeks that the 'Fifa trial' is a misnomer. They have railed at how the trial involved fraud concerning Latin American TV rights' deals and that the organisation itself was at arms length to it all.
And yet others, now departed from their roles, speak of the tone set by the senior executives and former presidents at Fifa during the time period the three defendants were senior officials.
Taking part in bribery schemes, they say, was a question of grabbing what you could. Those involved saw it as their rightful spoils for successfully navigating their way to the top of the snakes and ladders board, they claim.
Fifa's current leadership says things have changed since 2015. Those days have gone they insist, marked with a series of sweeping changes in corporate governance.
Speaking to me in his New York office one of the organisation's current vice-presidents, Sunil Gulati, believes reforms are starting to take hold and the culture is changing.
"We still have work to do. It's going to take time," he said. "The tone at the top has been set but for that to now get through the entire system it's going to take time.
"You can ruin your reputation in a day and it takes a long time to get it back. Fifa's behaviour has improved dramatically and I think that will continue. But it will take time for people around the world to accept that.
"We've come a long way but there's still some distance to go. As behaviour changes, as people's attitudes change - and that's not just at Fifa. It's at the confederations and at member associations - that's when we can say there's been a huge step forward."
And yet doubts remain in the minds of many about Fifa, especially given the curious dismissal of the organisation's independent ethics and governance chiefs in May and the excuses that were provided both then and now.
The sudden leap to action against Del Nero in Brazil also serves to highlight years of inaction against a man authorities believe is complicit in corruption.
And then there's a recent Council of Europe report that severely criticises the suitability of the new ethics investigatory supremo as stating she lacks the skills to do her job properly.
Particular focus was placed on her lack of English or French language ability and the inevitable heavy reliance on Fifa officials for translation and guidance - the very people she is charged with watching over.
This trial, ultimately, has served as a reminder that Fifa must still confront major challenges if it is to become a trusted name in sport once more.
The jury may have returned with a number of verdicts in Brooklyn.
It's still out in Zurich.