Sam Allardyce 'wanted' Swans boss Paul Clement as England assistant
By Michael Pearlman
BBC Wales Sport
Last updated on .From the section Swansea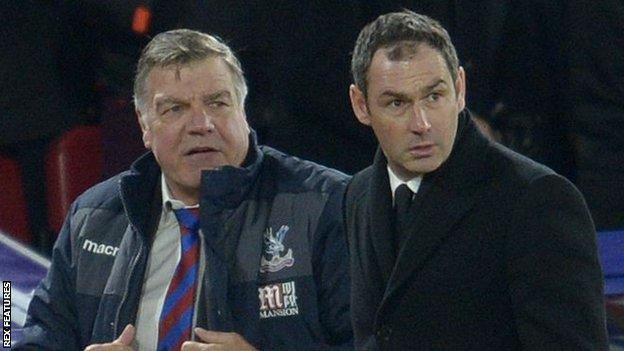 Swansea City boss Paul Clement has revealed he could have worked with former England boss Sam Allardyce if things had worked out differently.
Before Swansea's Monday game at Everton, Clement said he was offered the job of assistant during Allardyce's brief tenure as England boss.
At the time Clement was assistant to then-Bayern boss Carlo Ancelotti, who has recently been advising Clement.
"We were so close to working with each other, but Bayern said no," he said.
The Italian manager is one of several big name bosses Clement has been seeking counsel from in recent weeks as he plots another remarkable relegation revival.
"There have been a couple of nuggets of advice coming from the senior managers, Carlo [Ancelotti], Sir Alex [Ferguson], Guus [Hiddink], which is brilliant," he said.
England role was 'close'
Clement says he is full of admiration for Everton manager Allardyce, admitting how close he came to working with the former England boss, who left his role in September 2016 after just a month in charge.
Allardyce's tenure as England boss ended after one game when he left the job following a newspaper investigation claiming he offered advice on how to "get around" rules on player transfers.
Clement's first game in charge of the Swans was at a Crystal Palace team managed by Allardyce and Clement admits it was a close run thing for them to work together.
"Only just previously [from taking the Swansea job] he had asked me to join him as assistant with the England national team," Clement explained.
"We were so close to working with each other, but Bayern said no.
"So, Sam appointed Craig Shakespeare. That lasted one game and now Craig has got back working again with Sam [as his assistant at Everton].
"It just shows how the path of football travels sometimes.
"It was always only going to be a part-time role. I was not going to leave Bayern.
"I was disappointed, but I understood why Bayern said no. They wanted me to concentrate solely on Bayern and rightly so with a club of that size.
"At the same time, I was also disappointed for Sam. He made it clear throughout the years that England was a job that he really wanted.
"Then, to only have it for one game and for it to be pulled from underneath him - rightly or wrongly - was hard to see."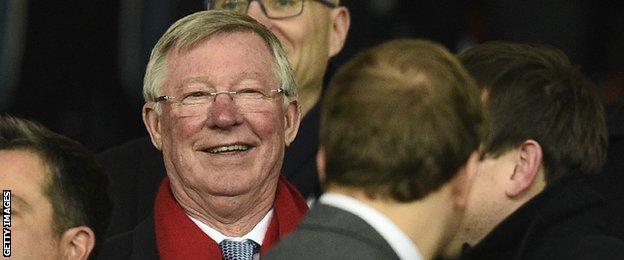 Legendary managers offer their support
Clement, who has been replaced by Welshman Mark Hughes, the Stoke manager, as the bookies' favourite to be the next manager in the Premier League facing the sack, says he has been receiving advice from some of the top managers in world football.
Clement recently attended a League Managers' Association [LMA] dinner and says it gave him food for thought.
"I saw Carlo [Ancelotti] last week at the LMA dinner in London, he got an award for 1,000 games as well as Tony Pulis, John Toshack and Claudio Ranieri," Clement said.
"I was on his table… with Sir Alex Ferguson, it was great.
"I caught up with Gus Hiddink who I hadn't seen for a while and asked me how I was doing."
Clement revealed that Ferguson, especially, has been a big help in his fledgling managerial career.
"When I was at Derby and lost my job I contacted Sir Alex and went to see him in his office and spent a couple of hours with him," he said.
"We've kept in contact since and have a really good relationship, Carlo, Guus, they are all brilliant with me.
"They all sent a message after the West Brom result, it was nice."