Cardiff chairman Dalman pledges funds for Warnock's Cardiff City promotion push
By Michael Pearlman
BBC Wales Sport
Last updated on .From the section Cardiff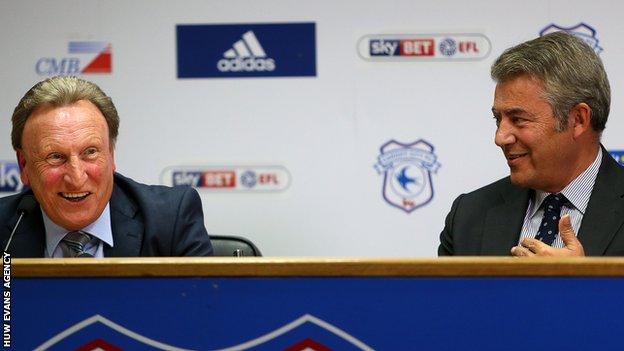 Cardiff City chairman Mehmet Dalman says that manager Neil Warnock will be given funds to strengthen his promotion-chasing squad in January.
The Bluebirds are four points behind Championship leaders Wolves after a hard-fought win over Hull City.
Dalman also wants Warnock to stay on beyond the end of his current deal, which expires at the end of the season.
"If Neil wants to stay, we will be happy, if he wants to go, we are here to talk him out of it," said Dalman.
"Where is Neil going to go?
"Talks on a new contract are none of your (the media's) business, but of course we want him to stay."
Dalman's message that Warnock will be backed in the transfer market is certain to please Bluebirds fans.
'It is the manager's call'
He told BBC Radio Wales Sport: "It is the managers' call in January, we've had a horrendous time with injuries and it is a concern.
"I know Neil is looking to strengthen in January and we will certainly support him.
"It is fair to say we have always made money available when we have needed to and if we can finish the year where we are today, yeah, I think we will need to strengthen a little bit more and we will be fully behind him.
"I don't think Neil wants 11 players; I would be surprised if he wants more than one, two at the most."
Cardiff Owner Tan 'set to attend games'
Dalman, who speaks on behalf of Cardiff's majority owner, Vincent Tan, says the Bluebirds' owner is really enjoying this season and is likely to attend a game soon.
"We are enjoying our football; this season has been quite spectacular," he said.
"We've just enjoyed, as it happens, doing better than we planned.
"We came into the season ambitious, the manager had a plan and he's made some good calls.
"Vincent is definitely enjoying it, I will be surprised if he's not at the next game or two, heading into the New Year I'd be surprised if you didn't see more of him."
Dalman says he is tired of people questioning the owners' commitment and insists no-one at the Cardiff City Stadium is yet getting carried away about their promotion prospects.
"I get annoyed by questions about his commitment, of course he's committed, he's invested a lot and passionately, he loves it," he explained.
"We aren't thinking about promotion, we are realistic, there is a long way to go, when Neil gets excited, I will get excited."
Beating Hull Warnock's 'best' Cardiff win
Warnock believes the 1-0 win over Hull City stands as the best win of his tenure in Wales, especially considering Cardiff were without nine injured players.
"I will take a season full of games like that," said Warnock.
"We didn't know what to expect for the first time [because of injuries], but at half time I thought we could step up and didn't think they could.
"With the problems we've got and the people we've got out, I think that was our best three points.
"In the circumstances it was incredible. Hull are a good club and have some good players."