Hamilton 3-2 Ross County: Giannis Skondras threw punch - Coyle; Canning says 'handbags'

By Kenny Crawford
BBC Sport Scotland at Superseal Stadium
Last updated on .From the section Scottish Premiership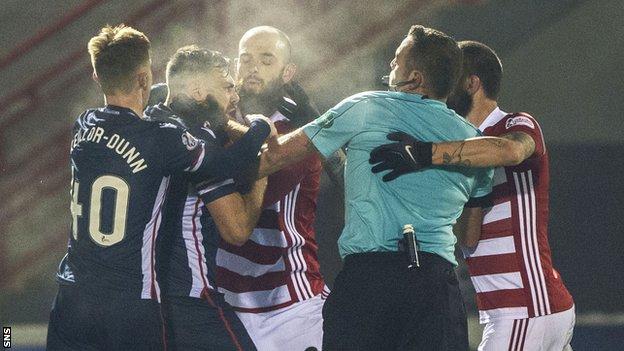 Ross County boss Owen Coyle claimed Hamilton defender Giannis Skondras threw a punch in a late touchline melee that marred Accies' 3-2 win.
Skondras became the second player sent off in a dramatic final six minutes that also saw three goals.
Players from both teams charged in after a tussle between County's Kenny van der Weg and Skondras and several traded blows.
"He certainly threw a punch at some point," Coyle said of Skondras.
"There's no place for that in the game, both sides, and I've let my players know very clearly that we will not accept that."
Referee Gavin Duncan - in his first Scottish Premiership match - was joined by his assistant referees and stewards on the pitch as they tried to pull players apart.
Accies boss Martin Cannings dismissed the ugly scenes as "just handbags".
"I didn't see it at the time but I've since watched it back and I think the two of them [Skondras and Van der Weg] come together and it's a little bit of pushing and shoving," he told BBC Scotland.
"Then it's the usual and everyone else piles in to try and protect their own team. It's something that's happened and it's just handbags.
"[Skondras] says he's not [raised a hand]. He says he's tried to push somebody and someone's pushed him. I think Kenny van der Weg comes in from nowhere. I don't think there was going to be any confrontation.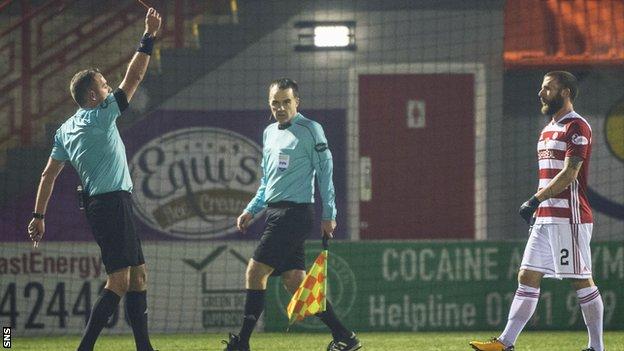 "I think Giannis is pushed from the back and it's made him angry and everybody else has piled in from there. I didn't see any fists or hands getting thrown about, and I've watched it back myself. It's a bit of handbags and we could do without it, but that's all it is."
Jamie Lindsay's late own goal brought Hamilton's winless eight-game run at home, stretching back to August, to an end as they moved four points ahead of County, and six above bottom side Partick Thistle.
"It was fantastic to have the character to keep coming back to find another goal each time we were pegged back," Canning added.
"The performance levels have been high of late but we haven't picked up enough points. Today I wasn't caring about how the game went; it was just about the three points."
Coyle, meanwhile, felt the result, which extended County's winless run to six games, was a "travesty".
"It's an unfair result," he told BBC Scotland. "Anybody watching the game will certainly know who the better side was.
"We controlled the game for large periods, and felt aggrieved to be 1-0 down to begin with. The penalty decision - Dougie Imrie is already on his way down when he's outside the box and the referee has given a penalty.
"It's the referee's first game at this level and it's always tough when you come into this environment and I certainly hope he's better for the experience.
"But I felt there were a number of things today that didn't go our way. You've got to get the major decisions correct.
"It was a travesty today. But we'll take our medicine, pick ourselves up and be ready to go again."