Claude Puel: Pragmatic and successful, how Southampton's loss is Leicester's gain

By Phil McNulty
Chief football writer
Last updated on .From the section Premier League148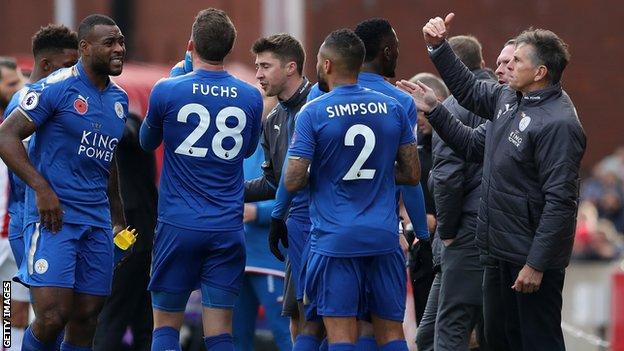 Claude Puel's undemonstrative exterior did not allow him to bask excessively in the afterglow of victory - but the French manager Southampton disposed of after only one season will have felt a warm glow of satisfaction as he returned to St Mary's with Leicester City on Wednesday to outclass his former club.
"Are You Glad You Sacked Puel?" was the taunt aimed at Southampton's fans from their rain-soaked Leicester counterparts tucked away in the corner of a rapidly deserting stadium as Puel's rampant Foxes won 4-1.
The 56-year-old was a surprise appointment to succeed Craig Shakespeare as Leicester manager in October, given his perceived "failure" at Southampton.
But a run of only one loss in eight matches playing attractive attacking football is seeing a reputation for a conservative approach - dismissed by those who know Puel best - at Southampton revisited.
So was Puel written off too soon after his season with the Saints?
Harshly judged in England?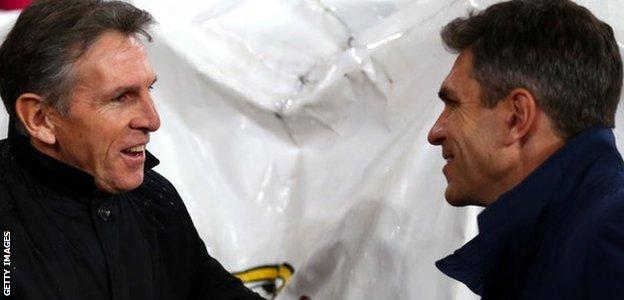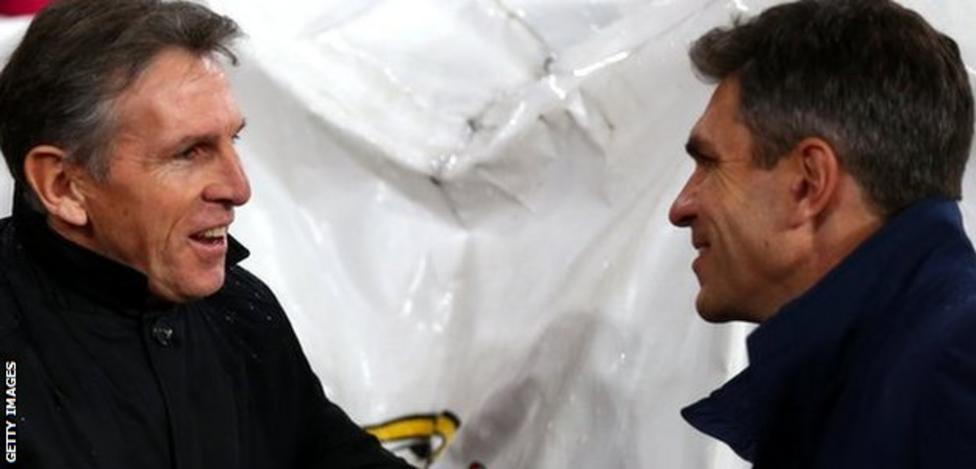 Puel's understated personality failed to capture the imagination at Southampton and no tears were shed when his departure was announced.
This was despite a managerial performance that, on the surface, looked highly respectable given an eighth place finish in the Premier League plus a first major final in 14 years in the League Cup - which they were unfortunate to lose to Manchester United at Wembley.
Southampton struggled to score goals under Puel, with the three Leicester scored inside 38 minutes on Wednesday matching the total for his last seven Premier League matches at St Mary's, and this stale statistic was cited as one of the main reasons for his dismissal.
Leicester, in sharp contrast, have scored scored seven goals in their past two away games at Newcastle United and Southampton, seeing Puel's stock rise again.
Since his arrival at Leicester City, Puel has overseen a development of his new side based on pace from Jamie Vardy, counter-attacking brilliance led by the revitalised Riyad Mahrez, youth in the shape of Demarai Gray and width as the Foxes' full-backs Ben Chilwell and Danny Simpson have been unleashed.
Premier League - Southampton after 17 games

2016/17

2017/18

Wins

6

4

Draws

6

6

Losses

5

7

Goals For

17

17

Goals Against

16

23

Goal Difference

1

-6

Points

24

18

Final position

8

-
It has come as no surprise to those who closely observed his work in France, where he built his reputation on expertly utilising the players available to him, reaching the semi-finals of the Champions League in 2010 with a Lyon side that was pleasing on the eye - a run which included victory at Liverpool in the group stage and eliminating Real Madrid in the last 16 - winning Ligue 1 with Monaco and taking Lille into Europe's elite tournament twice.
Lille beat AC Milan 2-0 at the San Siro to reach the last 16 of the Champions League in 2006-07. He also took Nice into the top four on two occasions playing expansive attacking football.
Journalist Philippe Auclair told BBC Sport Southampton's decision to dispose of Puel after one season was regarded as "ludicrous" in France.
He said: "I did not understand how Southampton could do away with him like that - unless they always saw him as a 'ferryman' who'd take them safely to the other side of the river, and then bye-bye.
"The idea he promotes 'negative' football is utter rubbish. He's a pragmatist, which is not the same thing at all. He inherited a Southampton side which wasn't exactly as packed with talent as under Mauricio Pochettino and Ronald Koeman. He saw his job to maximise the material at his disposal. He did that - and then some."
And that so-called "dull" reputation?
"He's not the most demonstrative of characters, almost dour, a Southerner who does not fit any of the stereotypes associated with people who've been born south of the Loire," says Auclair.
"Claude was greatly respected as a player with Monaco and is held in high regard as a manager as well, even if his low-key image hasn't necessarily served him in his coaching career.
"People would not think of him as one of the 'greats' of French management, but, given a chance to reflect, might well come to the conclusion he definitely is one of the better ones. In my opinion, vastly superior to the Laurent Blancs and Didier Deschampses of this world."
Another Leicester managerial coup?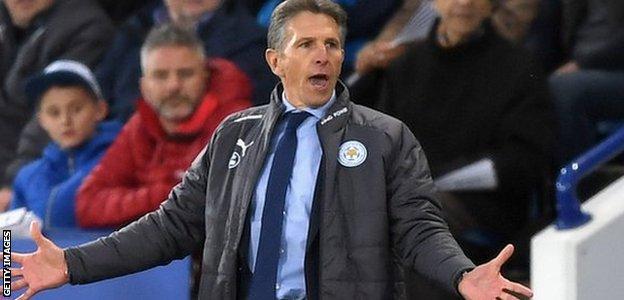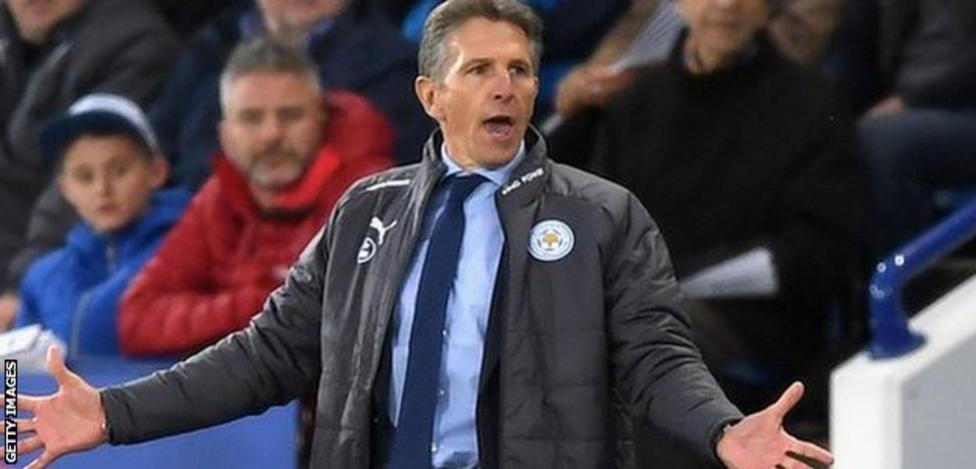 Leicester's choice of Puel as successor to Shakespeare came as a surprise - but any criticism was tempered by the brilliant success enjoyed by another left-field selection by the club's Thai owners when, to great indifference, they appointed Claudio Ranieri in July 2015.
The Italian proceeded to write arguably the greatest story in British sport by winning the Premier League so Leicester's owners had form for the unpredictable.
Former Leicester City defender Matt Elliott told BBC Sport: "It came as a big surprise to everyone because names you would expect were being linked with the job such as Sean Dyche, Sam Allardyce, Alan Pardew and Tony Pulis, even though he was in a job at the time.


"Puel wasn't a name that was on anyone's lips but maybe we shouldn't have been so surprised given how they pulled Claudio Ranieri out of the bag.
"It's fair to say people were a bit underwhelmed but then, and I did this myself, they went through his pedigree and there is an awful lot there.
"I have had the pleasure of meeting him. He looks you in the eye and you can tell he has great confidence about himself and in his methods and that has proved to be the case."


What has Claude Puel changed?
Puel has used many of his trademarks to start his time at Leicester City with just one loss in eight games since arriving at the King Power Stadium.
He was renowned for giving youth its head in France, as Auclair says: "At Nice, where he had very limited resources, he gave starts to no less than 23 players in four seasons, including 17 academy products.
"Nice - average age 24 - was Ligue 1's youngest team for three consecutive years. At one point, there were more of his players in the French youth sides than from any other club. And he made them play. They were a joy to watch."
The main beneficiaries have been left-back Chilwell and young forward Gray, both trusted since his arrival and responding with outstanding form.
Gray has scored three goals in eight Premier League appearances - the last as a late cameo at Southampton - since Puel took charge, after scoring just once in his first 50 games in the competition.
Auclair added: "Claude is a typical product of the Monaco/Lyon philosophy. He has no hesitation to put his trust in young players. He's been faithful to this principle throughout the whole of his career, and it is absolutely no surprise whatsoever to see him use Chilwell and, especially, Gray, as he's done."
Leicester's most passes attempted in a Premier League game

Date
Team
Opponent
Passes

09/12/17

Leicester City

Newcastle United

562

25/10/14

Leicester City

Swansea City

554

06/11/16

Leicester City

West Bromwich Albion

520

17/09/16

Leicester City

Burnley

515

12/02/17

Leicester City

Swansea City

505

01/03/16

Leicester City

West Bromwich Albion

488

07/02/15

Leicester City

Crystal Palace

486

16/10/17

Leicester City

West Bromwich Albion

486

02/01/16

Leicester City

Bournemouth

479

28/02/04

Leicester City

Wolverhampton

466
And for a side whose main strength has always been regarded as the quick counter-punch using the skills of Mahrez and the pace of Vardy, Puel is keeping those strengths while also adding a layer of passing patience.
In the win at Newcastle United on Saturday, Leicester attempted 562 passes, their highest total since that category of statistics started to be recorded in 2003-04.
"It was not so long ago Leicester looked a little one-dimensional but now their options look more plentiful and they have a good balance between being attack-minded and retaining that solidarity to make themselves difficult to beat," added Elliott.
"There seems to be more options, more movement, more goal threat, not just relying on Jamie Vardy. They are more aggressive, want to be in control of the game. They are easier on the eye.
"One of the big differences has been in the full-backs. In the past they were happy just to sit in a back four but now Ben Chilwell and Danny Simpson are encouraged to attack. We even saw Danny trying to get on the end of crosses at the far post for headers at Newcastle, which is a rarity to say the least."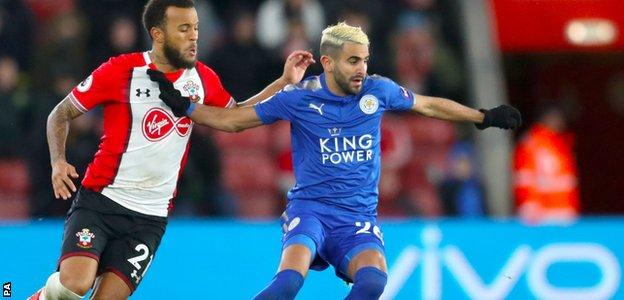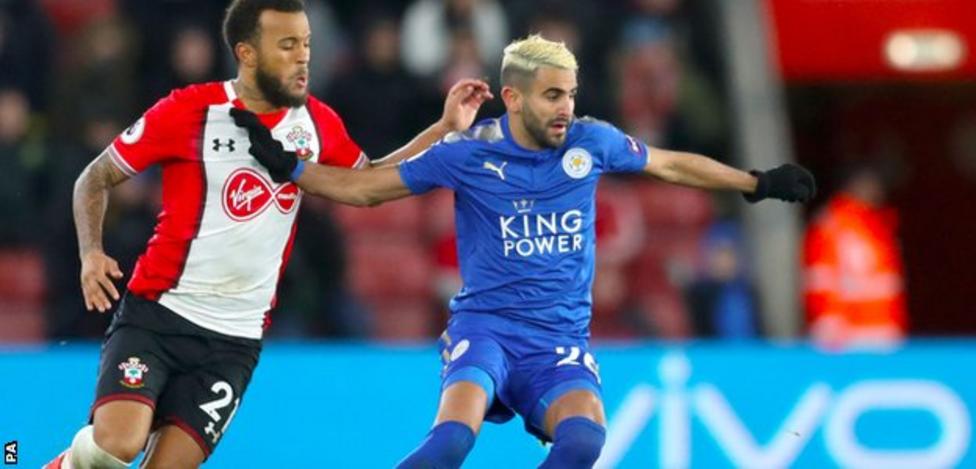 And arguably the biggest success of Puel's short reign has been the rejuvenation of 2016's PFA Player of the Year Mahrez, unsettled by transfer speculation earlier this season but brilliant since the Frenchman's arrival.
Once again, those who have observed Puel's work as a coach are not surprised that he has brought the best out of a mercurial talent - Mahrez's trademark 20-yard strike at Southampton following on from similar moments of magic against Tottenham and Newcastle recently.
"He knows how to deal with mavericks," says Auclair. "Hatem Ben Arfa's best season was with Puel. Look at Mahrez - a player re-born."
Ben Arfa, gifted but wildly erratic at Newcastle and Hull City, scored 17 goals and had six assists in 34 Ligue 1 appearances under Puel at Nice in 2015-16 when they finished fourth and there is already speculation the pair may be reunited at Leicester.
Leicester's impressive win at Southampton, and the manner in which they achieved it, adds to the sense that Puel may have been judged harshly, and too quickly at Southampton.
"It's fair to say there was some scepticism and lots of talk about so-called negativity at Southampton," says Elliott. "But it's so far so good and you can also see there is room for further improvement. He has made a very impressive start."