Rab Douglas emerges from 'scary, lonely' place of bankruptcy

By Martin Dowden
BBC Scotland
Last updated on .From the section Scottish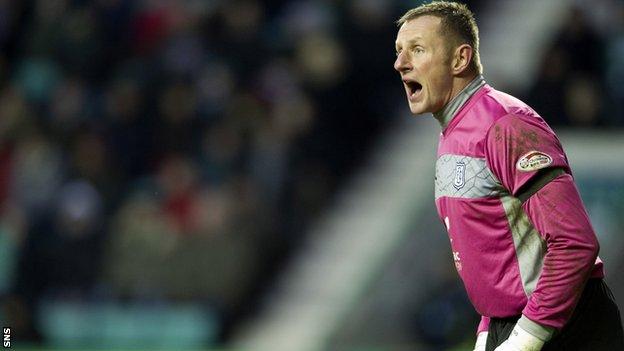 There's a fair sprinkling of acceptance in Rab Douglas' voice as he dissects his career; one littered with success and crushing lows. These extremes have been mirrored in Douglas's off-field life, too.
"Make a mistake, it's a goal, there's no hiding place." It's a quote that seems to encapsulate more than just his life as a goalkeeper.
In an interview to be aired on Sportsound on BBC Radio Scotland on Thursday, the former Scotland international lays bare his colourful story.
Where to start? The present seems natural.
Earlier this year, the 45-year-old was declared bankrupt, the result of his involvement in a film production scheme that attracted a number of investors from football.
"Same as a lot of the other footballers, the film partnership turned into a disaster," said Douglas.
"You look at the number of professional players that have [gone] bankrupt. The only people that won out of it [were] the financial advisers. It's been bad advice. You look how many have been sucked into it.
"It's one of the worst feelings in the world when you're sleeping three hours a night worrying about things like that, it's not easy.
"You had to pay it back over so many years. At one point the government OK'd it, then it went from tax deferral to tax avoidance. I paid a big lump back, over six figures. It's scary."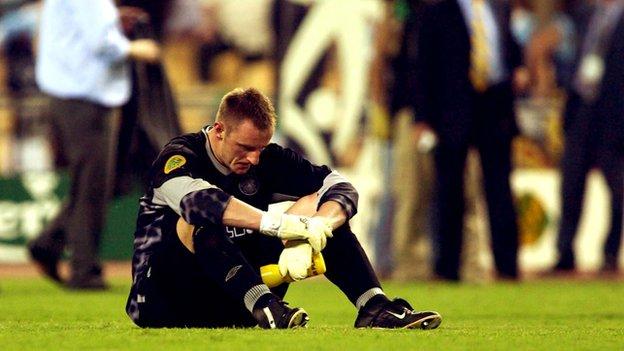 The experience left Douglas in a dark place.
"Depression, scary, lonely," is how he describes it. "I'm coming out the other end now. I still appreciate my life; I've had a great career."
His achievements back that up. Three league titles and three Scottish Cups won with Celtic.
He earned clean sheets away to Blackburn and Liverpool as Celtic reached the 2003 Uefa Cup final in Seville, only to lose 3-2 in extra-time to Porto. Douglas accepts some of the criticism that has come his way for that result.
'It's easy to blame the goalie'
"I'd probably take a bit of criticism for one of them, but we got there as a team," he said.
"On the night we never all turned up as a team. I seem to be one of the very few that is getting criticism regarding it.
"It's easy to blame the goalie. Nobody was complaining when we were getting clean sheets at Anfield or Blackburn away and I'm making saves. That's the nature of being the goalkeeper."
Dundee holds a special place in Douglas's heart. He had two successful spells there and points to the squad avoiding relegation despite a 25-point deduction after going into administration, as one of his proudest achievements.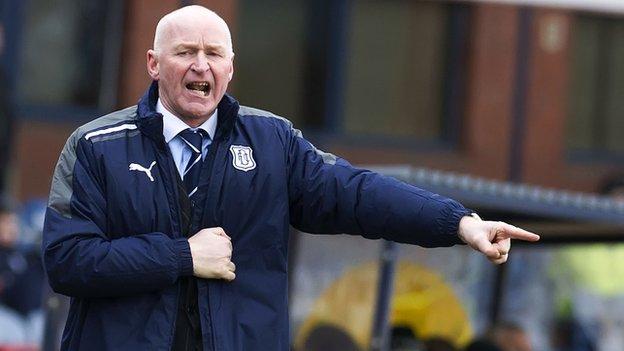 His time there ended sourly, though, when John Brown took over as manager and Douglas was quickly shown the door.
"I gave my everything for Dundee," he said. "I loved it up there, probably the football club I felt comfiest [at].
"He [Brown] signed Steve Simonsen. He phoned me to say, 'just to mark your card'. I went in the next day to training, we had words. He told me to get my stuff and get to.
"I thought I at least deserved the courtesy of him pulling me in face to face and explaining.
"There's only one winner as a manager and he won. It's there for a book and there's a bit more to it. He had his say, so I'll have mine soon."
The conversation was recorded by Douglas, as his PFA representative wasn't there. The tape is with an agent and a journalist, and Douglas is adamant he'll reveal its contents when he finally retires. He says it will be "slightly embarrassing" for Brown.
At the time, Brown was quoted urging other clubs not to sign Douglas, as he was "a disrespectful liar".
"Twenty-odd years and I'm still involved in playing; not bad for a disrespectful liar," says Douglas.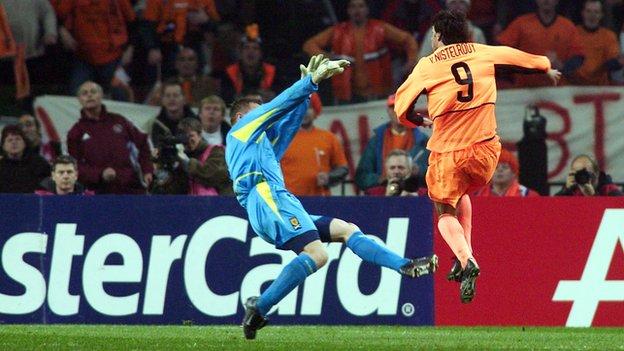 There's so much more to Douglas's story. He was attacked on the pitch by fans during a Forfar-Airdrie match. There was an approach from Rangers just prior to signing for rivals Celtic.
He missed the birth of his daughter after being promised he'd feature for Scotland but remained on the bench, although that didn't diminish his pride at playing for his country.
So many highs coupled with a number of lows. Ultimately, Douglas seems satisfied. "For a wee boy from Lanark, I've done okay," he says. "Others will say different."