Millwall considering move away from The Den because of CPO dispute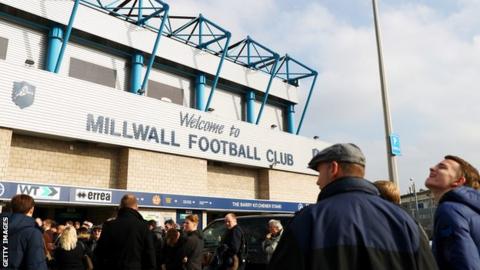 Millwall chairman John Berylson is giving "full consideration" to moving the club away from Lewisham.
The Lions are involved in a long-running dispute with the local council over a compulsory purchase order (CPO) for land around The Den.
"We have taken steps to investigate alternative sites," he said.
"It will be extremely difficult to see a long-term future in a borough where our local authority is unhelpful and hostile to us."
Lewisham Council abandoned their CPO in January, but Berylson believes there are "clear indications" that the council intend to revisit their plans.
The council wanted to sell the land to a developer, Renewal, who proposed building houses and a sporting village as part of a regeneration of the New Bermondsey area.
An independent inquiry by Lord Dyson, which began in April and was published last month, concluded there was no impropriety by any member of the council during the CPO process.
But American businessman Berylson, in a statement on Millwall's club website, has questioned some of the evidence used and findings of Lord Dyson's report.
"The council continues to state, notably to Lord Dyson, that it sees Millwall as being at the heart of the new community it envisages," Berylson added.
"Its current deeds do not match those words. My fellow directors and I are dismayed by these extended battles."
Councillor Chris Best, senior Lewisham Council cabinet spokesperson said: "We are proud that Millwall Football Club has called Lewisham home since 1910 and want them to stay here for generations to come. That's why we let the football stadium to the club on a 150-year lease until 24 June 2143.
"Now Lord Dyson's independent inquiry report has been published we urge all parties involved in the New Bermondsey development to work together to agree a way forward to bring much-needed new jobs and homes to the area and ensure Millwall FC stays in Lewisham."