Mohamed Salah: Liverpool & Egypt striker 'becoming a boss' - Didier Drogba
Last updated on .From the section African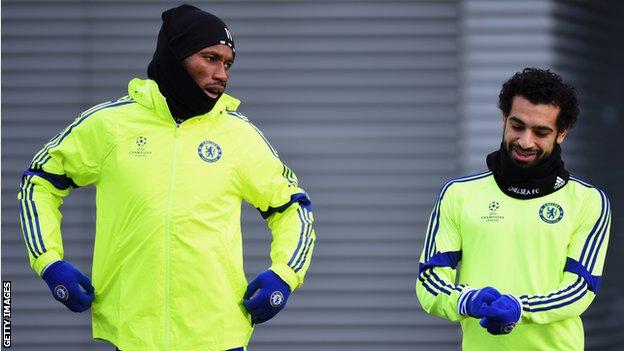 Newly crowned BBC African Footballer of the Year Mohamed Salah is growing into a real leader, says former Ivory Coast captain Didier Drogba.
Drogba, who won the BBC award in 2009, says Salah has improved since the two were team-mates at Chelsea in 2014.
"He's becoming a boss and a leader - we've seen it in the national team and seen it at Liverpool," he told the BBC.
"I can tell by his celebrations that he knows what he's doing now, he's not going crazy but just sticking his tongue out to say, 'yeah it's me'."
Drogba believes Salah's qualities will be key for Egypt at next year's World Cup in Russia.
"He can bring a lot of his leadership and his experience, that he is learning at Liverpool and with the national team [to the team in Russia]," he said.
"You know for him playing in a lot of big competitions will help him to be among the best players in Europe and during the World Cup
"Mo Salah on his own cannot win the World Cup but if all his team-mates are at the level the continent expects them to be, then Mo Salah can be a fantastic player and be one of the stars in this competition."
Drogba, who is now part-owner and player at Phoenix Rising in the second tier of professional football in the USA, has been impressed with the 25-year-old's development in recent years.
"He's unpredictable he can dribble past you easily and he has got stronger and he can score goals," Drogba added.
"There was time when he was texting me: 'I don't score, I don't know why.' I said: 'It is just a matter of time and confidence.'
"When you have the confidence, everything can happen and you can see now that he is scoring goals.
"I saw how he improved through the years. He had to go to Italy to perform and then come back to England show that he is the player we always believed he was
"What he has done with the national team as well being able to qualify the country in a very difficult game I think he deserves it."
Salah clinched the BBC award in a public vote ahead of Pierre-Emerick Aubameyang, Sadio Mane, Victor Moses and Naby Keita.