Tommy Wright: St Johnstone suffering from 'outside negativity'
Last updated on .From the section St Johnstone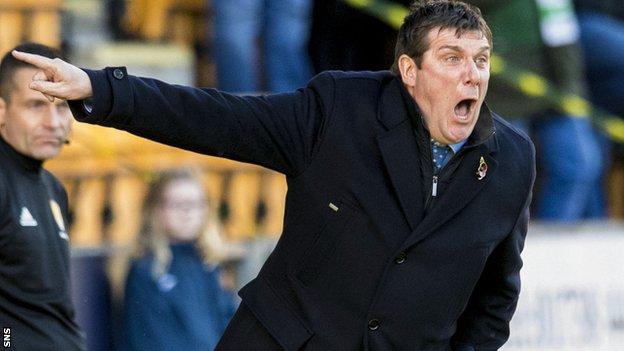 Tommy Wright insists his St Johnstone players are not getting the credit they deserve after a recent upturn in form.
Saints, who sit seventh, have won two of their previous three Scottish Premiership games, having previously endured a winless run of six matches.
Wright's men finished fourth last season but are only two points worse off than at the same time last year.
"Since we won the Scottish Cup (in 2014) there always seems to be a negativity from outside," he said.
"We're having, I think, a reasonably good season but things can obviously get better.
"Everybody is saying how well [fifth-placed] Motherwell are doing and we're only two points behind them and the league is a lot tougher this year.
"For us just to be two points off what we were last year, I have got to be reasonably happy with that but I also want improvement."
A five-match unbeaten start to the season suggested bigger and better things for the Perth club, but their comparative struggles since then mean they are nine points off fourth place, though a win against Aberdeen on Wednesday could catapult them into the top five.
'Even our own support is negative about us'
Wright claims the negativity has also shown among Saints fans after their recent struggles.
"Every team apart from the big clubs has sticky patches," he said.
"Apparently we have plummeted down the league? People should look a wee bit closer and maybe do their homework.
"We are described as two (wins) in eight, but in fact we're two in three, we're six in 16.
"Teams around us have all got the same records but that's how this league is. Even our own support is negative about us at the minute, but we cannot let that affect us.
"Ultimately, we know how tough this league is and you go on runs you don't like, but we have the character and quality to get through it and we are coming out of it."