Chris McLaughlin's words of the weekend: Aberdeen chairman Milne takes spoils

By Chris McLaughlin
BBC Scotland's senior football reporter
Last updated on .From the section Scottish
BBC Scotland's senior football reporter, Chris McLaughlin, analyses a talking point from the weekend's action, asking what's behind the words.
Aberdeen chairman Stewart Milne after manager Derek McInnes chose not to move to Rangers
"If he had been able to convince me that he definitely wanted to go for the job, I would have sat down with the board and one way or another we would have found a way to make that happen."
To the victor the spoils.
The spoils in this case being a fairly battered and bruised Derek McInnes and the man left standing with his prize, after an intriguing and often shambolic tug of war, his chairman Stewart Milne.
To be fair it was, in reality, five weeks of phoney war followed by a brief skirmish that left most onlookers and commentators slightly confused.
With the dust far from settled, the defeated had their say. It was more delusional sentiment than declaration of surrender.
So what then would follow to draw a line under what became a fairly sorry saga? Step forward the softly spoken winner from the North.
Milne had had his say once before as the speculation intensified that Rangers would be coming for his man.
It actually all seemed so simple and obvious back then. The Ibrox club would whistle at some point and their former midfielder would surely follow. That's the way it works.
And so when Milne eased the growing concern of the Aberdeen fans by telling them his manager was going nowhere, it was met with relief by some and scepticism by others.
When the gamble of that statement paid off, it was almost inevitable he would speak again. And when it came, it was a nod to the transparency and clarity that was crucially missing from the armoury of his footballing foe.
It is unimaginable to think there weren't some Rangers fans listening to Milne on Saturday with grudging respect.
The man who has been at Pittodrie for more than 20 years, and rarely speaks to the media, gave a self-assured display of magnanimity and class that many would argue has been missing from the Ibrox boardroom since... God knows when.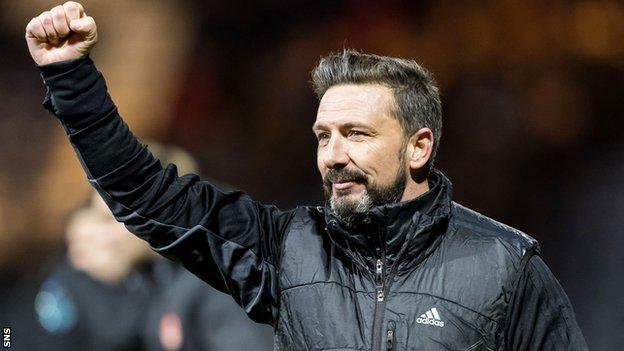 Given plenty of opportunity, Milne decided against hitting back at the post-joust jibe that did little to ease the sucker punch felt by the Rangers fans.
Instead, he calmly discussed how he always felt his manager's head would win the day over his heart.
With each word carefully chosen and crafted, he talked about the relationship between chairman and manager that gave him confidence against the odds. He even went as far as to say he would have found a way if McInnes had pleaded to let him go.
Easy to say, I suppose, with the fog of war cleared and the status quo intact, but it was another show of self-assured strength that would have left a warm glow in the once churning stomachs of the Aberdeen faithful.
And so from one off-field victory, new confidence is forged for a club that could easily have been set back years if it had lost.
Much has been said and written already about where the saga leaves Rangers but as Aberdeen look down from their current cloud nine on a seemingly never-ending Ibrox limbo, they have a battle-hardened and committed chairman to thank.
Finances will dictate how far they can push on from here, but for now they will simply enjoy the spoils of war until someone else comes calling.