Hugo Broos on Cameroon job: 'what's happening is a soap'
Last updated on .From the section African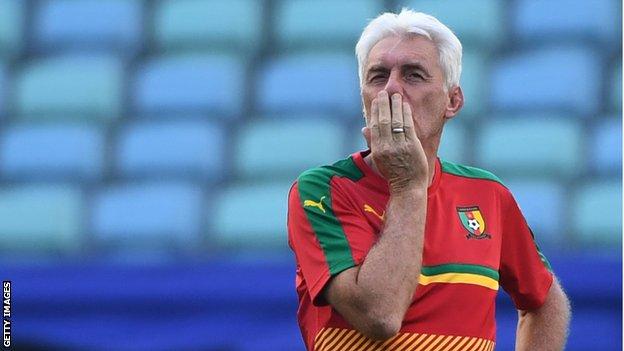 The man who led Cameroon to the Africa Cup of Nations crown this year has told the BBC he has no idea if his contract will be extended.
The final decision rests with Cameroon's sports minister.
Broos told the BBC's World Football that he wants to know one way or the other by December 15th.
"I don't know now what will happen," Broos told the BBC.
"I'm waiting now, this is something that is not serious, it's something to laugh [at], it's a soap, what happens now in Cameroon."
He says his contract, salary and expenses should all be resolved by 15 December, whether he remains in the role or not.
The triumph of the Indomitable Lions at the 2017 Africa Cup of Nations in Gabon came despite the absence of several key players .
It was followed by a failure to qualify for the World Cup, which turned some elements of public opinion against the Belgian.
But he defends the team's performance through the campaign.
"What we did in Gabon was something unique," he said.
"So if we now had to prepare for the Afcon 2019, there have to be some changes in the team - we have to look for other players, I have to look for better players."
Broos does not yet know whether he will have that responsibility, but if he remains in the job, he knows it will be tough.
"It's a very difficult situation, because they fired me - so if the minister decides tomorrow that he goes on with me as the coach, I will have to work with a board who is against me."