Derek McInnes: Aberdeen fans 'must forgive and forget' and 'get behind' boss
Last updated on .From the section Aberdeen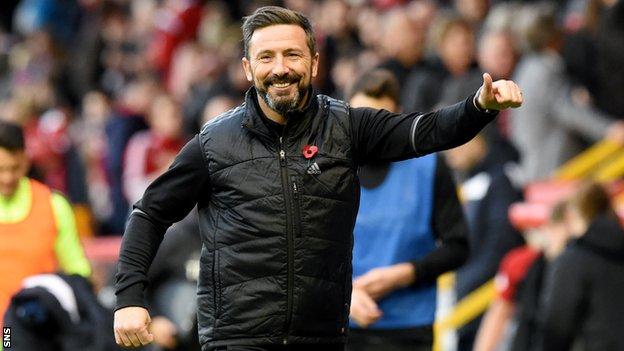 Aberdeen supporters should "forgive and forget" after the saga linking their manager Derek McInnes to Rangers, says a fans' group leader.
Scott Barclay, chairman of Dons' Supporters Together, was "absolutely shocked and stunned" when Aberdeen announced McInnes would remain as boss.
Earlier on Thursday he said McInnes' position was "untenable" ahead of Friday's Premiership game at Dundee.
"When I got the news I laughed, I couldn't believe it," Barclay said.
"But now we must get behind him. He is our guy, he has laid his marker down and we have to recover from what has been a rough last five games for us, starting on Friday.
"Aberdeen away fans are a raucous bunch and I think they will be 100% behind the team, no question. I think Derek will get a great reception.
"A lot of fans will think 'we have stuck it in the eye to Rangers' and that is a huge win for us. Some of us might stand back and think 'what is the back story here?'
"I want to accept the club statement, I am delighted to read it, it makes sense. Maybe to Derek, this was the biggest decision of his life that will impact his family forever.
"But I do think there is a bit more to it. That is the question that will linger in Aberdeen fans' minds."
Aberdeen have lost three of their last five Premiership games, with Rangers replacing them in second place on goal difference following back-to-back wins over the Pittodrie side.
But Barclay believes that, with McInnes' immediate future resolved, Dons fans need to remember what he has brought to the club since his arrival in March 2013.
He has led them to three successive Premiership runners-up finishes, as well as the 2014 Scottish League Cup.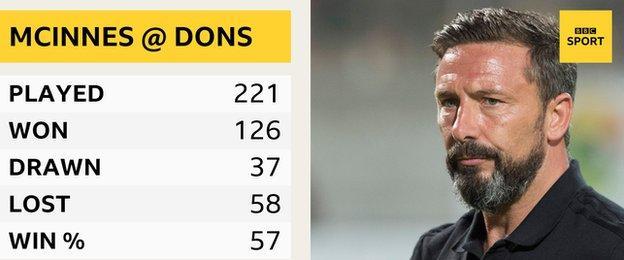 "We want to get back to remembering what Derek has done and built up for us," Barclay added.
"We don't take any win for granted, and we have tailed off dramatically in the last five games - the Kilmarnock game [a 3-1 win] was a blip. We haven't really started to play this year. We have got a long way to go.
"But forgive and forget. This is football, so results mean everything. If we go on a massive winning run, a lot of things will be forgotten, because Derek has lifted us up so much.
"He has given us success, credibility and belief. He was, and still is, the figurehead for the Kingsford campaign for the new stadium.
"There is so much that people have bought into, and that was probably hurting a bit too much at the thought that Derek was going to walk away.
"I would put on a lot of money on Aberdeen's away fans (at Dundee) being 100% behind the team. We need to rip up what has gone before and tear into the songs and chants, and really get behind the team and give something back.
"The team has been unsettled, there is no doubt we have had a rough ride of it over the last six weeks."