Man Utd v Man City: Is stopping Sane & Sterling the secret to derby success?
Last updated on .From the section Premier League

You can watch highlights of Manchester United v Manchester City on Match of the Day 2 at 22:30 GMT on Sunday on BBC One and the BBC Sport website.
There are many reasons why Manchester City have made such a stunning start to the season, but among the foremost is the form of Raheem Sterling and Leroy Sane.
Whether you call them modern-day wingers, old-fashioned inside forwards or simply wide attackers, Sterling and Sane could not be better suited to provide two prongs of Pep Guardiola's fluid 4-3-3 system and have contributed key assists and goals, often at a crucial time.
Will they decide Sunday's Manchester derby too? Not if United manager Jose Mourinho can help it.
United's own wide-men have also gone on the attack to play a big part in their wins over the past few weeks, but the role they play against City at Old Trafford could be a very different one.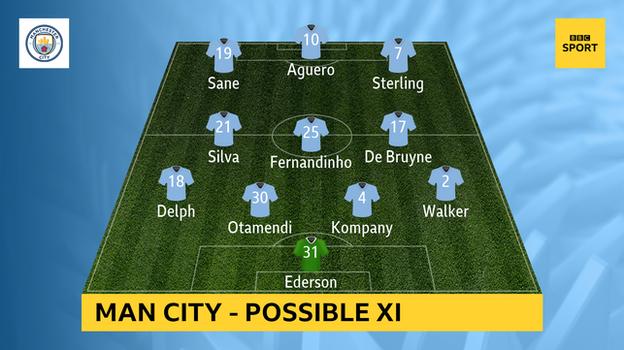 Structure or sophistication will settle the derby
City have scored 62 goals this season - an average of almost three per game - and Sane and Sterling have been involved (with a goal or assist) in 29 of them.
Just one team - Wolves - have stopped Guardiola's side from scoring in any of their 23 matches in 2017-18, but Sunday promises to be their toughest test.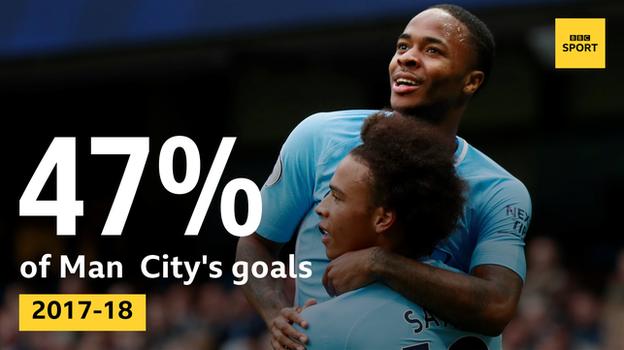 Not only do United boast the meanest defence in the top flight, Mourinho is a manager renowned for being able to kill matches with his tactics.
"For this game specifically, City will need to have sophistication from their wingers," said BBC Sport's Pat Nevin.
"Like most people, I think United are going to be very defensive so Sterling and Sane will need to go and try different things and adapt in different ways, by coming inside or switching flanks.
"I don't think United want that from their wide players. I think they want them to stick to a set structure, whatever their formation.
"Their front three might stay narrow, as they have done in some of their other games this season - in fact I would be surprised if they do anything different, because they do not want to leave any gaps through the middle.
"So the guys who are going to be adding to their attacking width are their wing-backs or full-backs - the guys who can get back as well."
That will be Ashley Young and Antonio Valencia, who between them have provided more Premier League goals and assists (four) than Sane and Sterling (three) since the start of November.
But, while Young and Valencia have licence to advance up the pitch regardless of the opposition, they do not always look to get into the final third of the field.
"They don't have to go that far forward," explained Nevin. "In fact they would be foolish to try to against City.
"They just have to get in a position where they can cross the ball from deep because with the big players United have - for example Romelu Lukaku, Zlatan Ibrahimovic and Marouane Fellaini - those balls can still be effective.
"So they don't have to try to take chances and beat people.
"Doing that runs the risk of leaving them stuck up the pitch, from where they would not recover against City's wide players because they are so fast."
Ability to adapt the key to Sterling success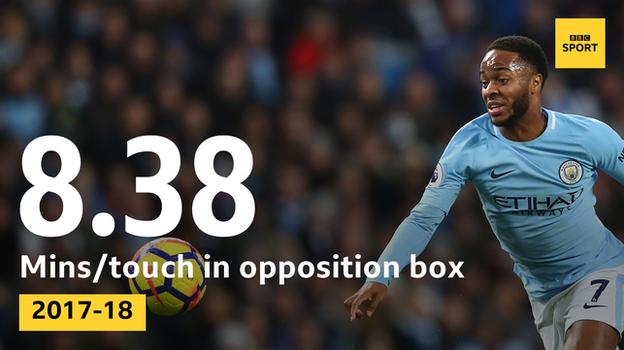 Sterling can play as an old-fashioned winger, and can be effective when he does it.
Guardiola asked him to hug the touchline in City's 1-0 win at Stamford Bridge in October, when Sterling operated high and wide on the right to push back Chelsea's left wing-back Marcos Alonso and allow Kevin de Bruyne more space in his deeper role on the same flank. It worked.
But Sterling has been coming inside more than ever this season, and his team-mates are finding him - he has made more touches in the opposition area per minute than any other Premier League player this season.
He is having more shots than ever before, and making fewer crosses - part of the reason he is already having his most prolific campaign to date with 13 goals, nine in the Premier League.
Raheem Sterling in the Premier League

Season

12-13

13-14

14-15

15-16

16-17

17-18

Mins per touch in opp. box

18.4

19.1

14.9

13.3

10.5

8.4
Mins per shot

51.4

49.2

36.3

37

39.3

30.2
Mins per cross

34.2

31.2

37.7

35.7

31.9

47
One of the reasons for his success is his ability to change his mindset mid-match, as he did to help City beat Huddersfield last month.
"I was a co-commentator for BBC Radio 5 live at Huddersfield and City were 1-0 down at half-time and I was saying that Sterling had to get off the touchline," Nevin said.
"By doing that he dragged other players with him and allowed Kyle Walker to fly past him on the outside. Suddenly City were asking more questions of the opposition and it was much harder to defend against.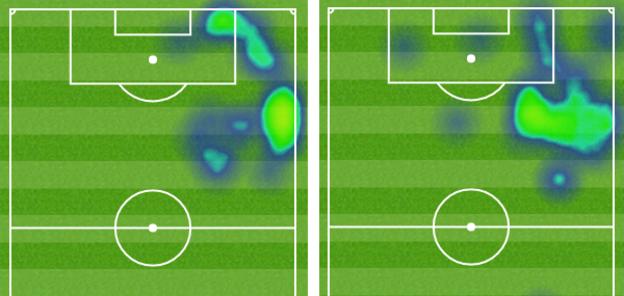 "Two minutes into the second half, Sterling moves inside and gets a penalty. Then he scores the winner.
"That's what City's players have to do sometimes - adapt - and it starts with their manager. Pep makes changes to react to the opposition's system, like he did in the Chelsea game.
"But Sterling is choosing when to come inside himself too.
"That was not the case until recently but I have watched him a few times this season and he really understood it, so he is beginning to learn."
United's players could do the same, but Jose won't let them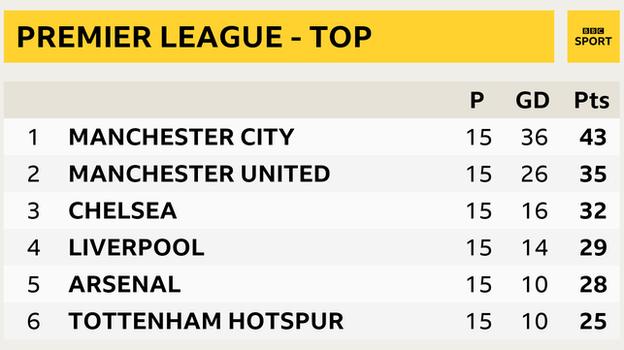 Huddersfield, Southampton and West Ham all came close to halting City's winning run in recent weeks, before losing to late goals.
All three sides used a defensive approach, so should we expect anything different from United? Nevin does not think so.
"United will be better than all three of those teams because Mourinho is their manager, and they have better players," he explained. "So the way they are going to set up is kind of obvious and I know what kind of game I am expecting.
"City will have the bulk of possession and try to break United down, while United's set-pieces and balls in from wide are going to be massive for them.
"I have been looking forward to this game all season, not just because they are the two best teams in the Premier League but also because they are a complete clash of styles, despite them having some quite similar players."
In Marcus Rashford and Anthony Martial, United have two fast attackers who also seem to fit the modern-winger template that is serving City so well.
They have been involved in a greater percentage of United's goals than Sane and Sterling have for City this season.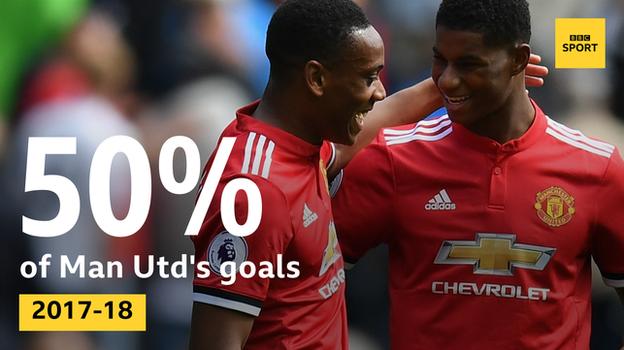 "They are used in a far more rigid way," Nevin explained. "Their job in Mourinho's 3-4-3 or 4-2-3-1 is to hammer up and down the pitch and defend as much as possible, as well as pose an attacking threat.
"Martial was asked to stay out wide for most of last season and some United fans were getting miffed because he is not a winger - at least not in the way they use him - in a million years. When he comes inside, though, what a player he looks.
"I have never seen Rashford as a centre-forward, though. He can do it, but why take away the energy and speed he could give you as a wide player if he was used there in the right way?
"When I watch him, I see Thierry Henry and how he played, and think what he could add to the team.
"United's structure at the moment does not really get the best out of either of them in the way City do with Sane and Sterling, but there is not much they can do about it.
"I have been there, playing in a team where the system does not suit me. If you try to do something different or ask questions about the job you are doing, you will be taken off."