Jese Rodriguez: Stoke discipline striker after walk-out
Last updated on .From the section Stoke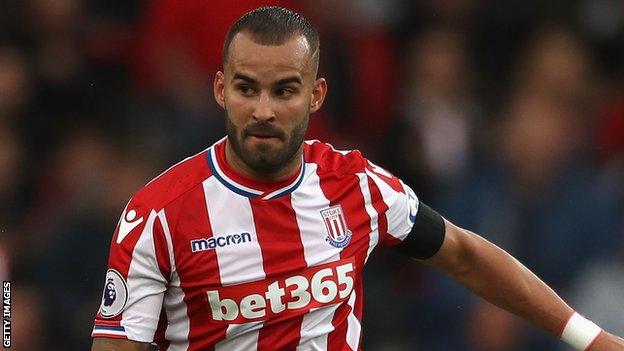 Stoke striker Jese Rodriguez has been disciplined by the club after he left the bench early during last weekend's victory over Swansea.
It is believed the 24-year-old, who is on loan from Paris St-Germain, walked down the tunnel and left the stadium after Mark Hughes made his second and third substitutions in the 70th minute.
"He made a mistake. He's been disciplined for that," said Hughes.
"He understands it wasn't the right decision at that time."
Asked if Jese had apologised, the Welshman added: "Not in so many words because his English isn't great but he understands that it was incorrect.
"It's been addressed, we've obviously highlighted what he needs to do in the future. He's a little bit frustrated, he wants to play, as all players do."
The former Real Madrid striker lost his place in the side after the defeat against Bournemouth in October and has made just two short substitute appearances since.
He will be unavailable for Saturday's game away to Tottenham because he is going home to the Canary Islands, with the blessing of the club, to be with his baby son Nyan who has been fighting for his life in hospital after being born prematurely.