Swansea City play down links to Pulis, Clement claims club backing
By Simon Davies & Dafydd Pritchard
BBC Wales Sport
Last updated on .From the section Swansea66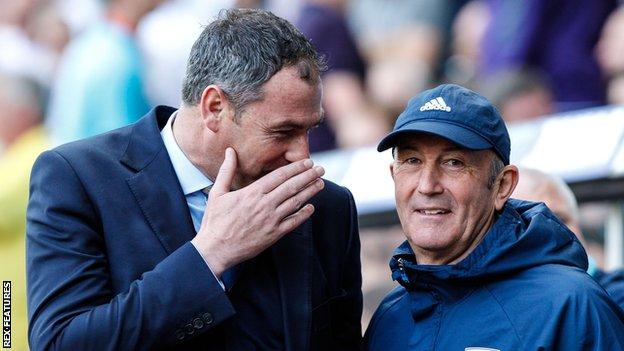 Swansea City sources have played down reports that they are considering replacing head coach Paul Clement with Welshman Tony Pulis.
Pulis has never been in charge of a relegated club, but was recently sacked by West Bromwich Albion.
Clement said he is "absolutely" sure of his board's and squad's backing.
Swansea host West Brom on Saturday in a crucial league tie before they go on to face Manchester City, Everton, Crystal Palace, Liverpool and Watford before December ends.
Clement insisted he is the man to revive Swansea City from a slump in which they have lost 10 of their 15 league games this season and won just two.
He claims to have had "positive" talks with the club's owners and is confident he has their - and the squad's - support.
"Absolutely, I have no doubt about that," he said.
"I have no doubt the players are behind me. I have enough experience to know when the dressing room is behind you and when it's not.
'Pressure is from external sources'
"I've experienced dressing rooms that have grown apart from their manager and that can be difficult to get back. I have no feeling like that.
"Internally, everyone's working in the same direction. If there's any pressure, talk of I'm not going to be here, it's from external sources, it's not from within.
"I had a positive conversation last night with [co-owner] Steve Kaplan, I was on the phone with him for about an hour and a half.
"The communication lines are open, we know we're in a difficult position, but we're all working together to make it right."
Clement's survival track record
Clement was appointed in January, with Swansea bottom of the table with 12 points from 19 games - the exact half-way point of the 2016-17 season.
A dramatic battle to avoid relegation ensued and, thanks to a remarkable run at the end of the campaign, which saw the Swans win four and draw one of their final five matches, Clement steered them to safety.
A tally of 29 points from Clement's 19 games in charge gave Swansea a final total of 41 points.
The former Bayern Munich assistant manager believes his track record of saving the Swans from relegation will earn him some faith from the club's owners.
Clement: 'No fears for my job'
And although Swansea face a crucial home match against fellow Premier League strugglers West Brom, who are 17th in the table, on Saturday, Clement does not fear for his job if they lose.
"If you're talking about my position as head coach here, no I don't," he added.
"But at the same time I look at our points tally in the league, we're on nine at the moment, we're four games away from the halfway point and at the halfway point last season the club had 12 points, and we know if we get to that, we can still go on and do it.
"It was a big effort last season, but we managed to do it. We really need to be getting to a minimum of 12 at halfway.
"If it's any lower than that, it's going to be tough. People know what I'm capable of doing.
"When you've showed in your past you've got that experience to be able to get out of a difficult situation, maybe people have got more belief in you than they would otherwise."