FA Cup: West Ham's David Moyes must be 'sick of the sight' of Shrewsbury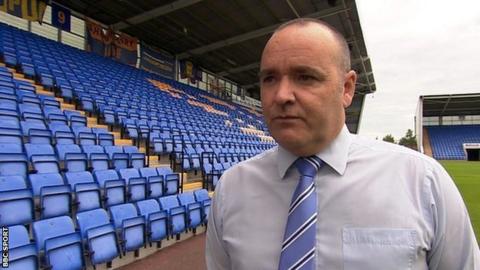 Shrewsbury Town chief executive Brian Caldwell says West Ham United boss David Moyes will be wary of returning to Shropshire again after famously losing with Everton 15 seasons ago.
Town's FA Cup pairing with their ex-defender evokes memories of Everton, featuring a young Wayne Rooney, being beaten at the old Gay Meadow in 2003.
Now Shrewsbury and Moyes' new club will meet at the third-round stage again.
"They'll not like coming here," Caldwell told BBC Radio Shropshire.
"Poor old David Moyes is probably sick of the sight of us, obviously having come with Everton.
"We then played against his side at Sunderland last year, when they were a Premiership team and it took a late Adnan Januzaj goal to beat us.
"It just shows you can compete 11 against 11, and it's going to be an exciting one."
Joe Hart: The Hammers' other former Salopian
Scotsman Moyes played centre-half for Shrewsbury from 1987 to 1990.
West Ham and England keeper Joe Hart, meanwhile, started his career at his hometown club in 2003, signing his first professional contract with them just four weeks after that famous Shrewsbury-Everton cup-tie.
"There'll be added interest with David Moyes having played for the club and Joe Hart as well, so there's a couple of good stories in there," said Caldwell.
"We're delighted to get a home tie obviously. It gives us a slightly level playing field because you're playing at your home venue.
"It's a good one to get Premier League opposition too. Anything can happen. You look at every single round, there's always strange things happen. That's the magic of the cup.
"Hopefully it will be a great occasion, not only for the club but hopefully for the town as well."
Shrewsbury currently stand second in League One, having been knocked off the top by successive defeats prior to Saturday's comfortable 2-0 second-round win over Morecambe, which set up their prestige third-round tie.